When I moved to Germany in 2013 I didn't expect that I was going to meet so many people from across the world. During my German classes at Goethe Institute, I met many Portugese people, which today I can still call friends.
As soon as I talked to them, the connection was immediate: we all belonged to southern European countries and it connected us in the way that we appreciate life. The love for food, the need for warm weather, and the love for travel.

I then realized I had to visit Portugal sooner or later, to discover the culture with my own eyes and realize the feeling that transpired from the conversations with my friends.

I had the chance to plan my first trip to Portugal in 2015. My husband and I decided to spend our Easter Break in Portugal, also hoping to be able to enjoy some sun, since the weather in Germany was still pretty cold and cloudy. Having only 4 days off, our desire was to visit the southern part of Portugal and also spend 2 days in Lisbon.
We were not disappointed.

We discovered a beautiful and sunny country, made of people that welcomed us in their land with open arms. My husband and I literally fell in love with Portugal as soon as we landed.

Here below are the reasons why we loved Portugal and we still think that was one of the best trips of our life.
We were able to visit Portugal for a long weekend. Basically, we left Germany on a Friday morning, and we came back on a Monday evening.

Since we currently live in Germany, we booked a flight that connected us non-stop from Germany to Faro.
The plane ride was about 3 hour long and when we landed at the Airport of Faro, early in the afternoon, we rented a car for 4 days.
In Portugal there are 2 other international airports, one in Lisbon and one in Porto.

For us, the connection to Faro was less expensive and was going to give us the chance to visit the southern area of the country, too.

If you are interested in visiting the northern part of Portugal, flying directly to Porto would be the way to go. Otherwise, Lisbon International Airport is also a good option, and then you would need to rent a car to drive north (or check the public transportation).
Beauty Even in Small Non-Touristy Villages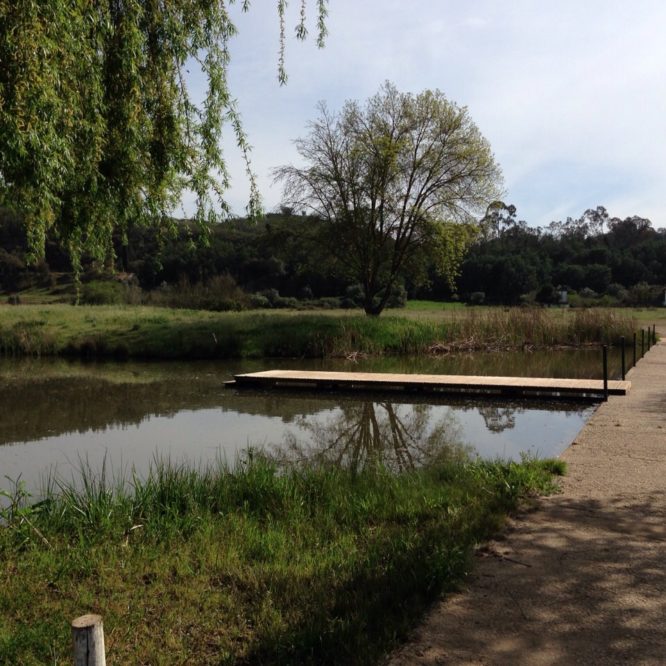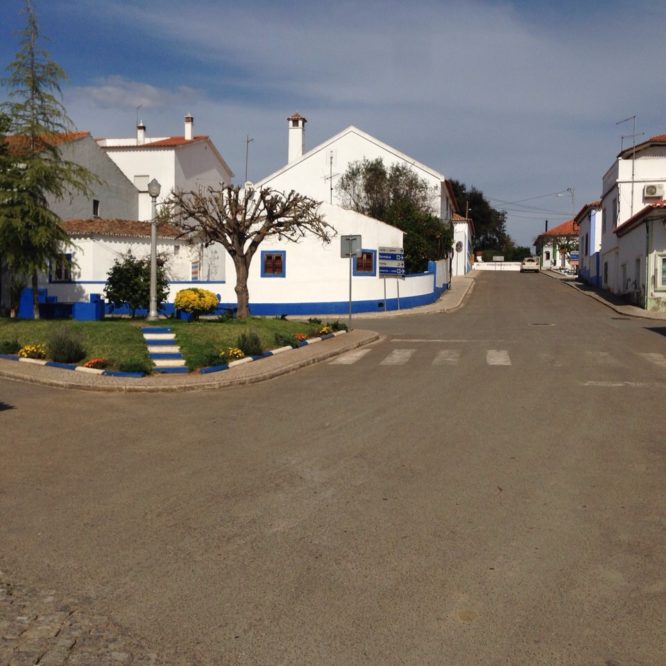 After we received our rental car, we took the highway in the direction of Lisbon.
Our plan was to stop along the way to visit small villages before reaching our hotel destination in the heart of Lisbon.

What we discovered was very unexpected.
We stopped in two small villages. The first one was Santa Clara a Velha, a very little town where we spotted the very traditional Portugese way of living.
The town only has a small grocery shop and a few other buildings with private houses, but we were surprised by the beauty of the surroundings and the friendliness of people around.
There was even a pond where we stopped to appreciate the calmness of the village life. The pond was surrounded by the green vegetation that was pretty wild, yet very serene. Our first stop in Portugal was a success!

After driving a little longer, it was dinner time and we decided to stop in Porto Covo.
This is a little beach village on the Atlantic Ocean. We walked along the streets of Porto Covo for 15 minutes before discovering that the views were some of the most beautiful we have ever seen.
The main street led to the end of the village, where an unpaved area was facing the ocean.
We were so lucky to arrive there when the sun was about to set. We took time to enjoy the moment and then also to take some pictures.

Afterwards, we had dinner at a very small local restaurant in the heart of Porto Covo, where the staff treated us in a very friendly manner. The food was delicious, too. We could not ask for more!
Amazing Ocean Views & Breathtaking Sunsets
During our visit to Portugal, we were blessed with great weather, therefore we spent all of our time outside, discovering new places, and making good memories.

Watching sunsets and looking at the Atlantic Ocean was one of the highlights of this trip (among many others!) for me. The most remarkable experiences were the views over the ocean from Porto Covo and a sunset in the small village of Alcacer do Sal on our last day while driving back to Faro.

There was a sense of peace and quietness in being there. The areas where we were standing were not crowded and we felt all of the beauty was for us.
Cleanness Everywhere & Friendly People
All the cities and small villages that we visited in Portugal were extremely clean.
We were happily surprised to notice that even in Santa Clara a Velha, the smallest non touristy town we happened to visit, all the streets and even the pond area were extremely well maintained.

Also, every time we had the chance to interact with the Portugese, either at restaurants, at the hotel, or in shops, their friendliness was genuine. We were impressed and noticed how strong their English was, even in the small towns, and also how willing they were to assist us in case of questions.
Unique Colorful Architecture
During our short stay in Portugal, we took the time to discover Lisbon, but we also explored Belem and Sintra.

What I enjoyed the most was walking around and noticing how the stunning architecture was so colorful! Many historical buildings are painted in yellow and red colors, while the main building material of landmarks in Lisbon are white.
This is a unique combination of colors that is such a beautiful contrast against the blue color of the ocean waters.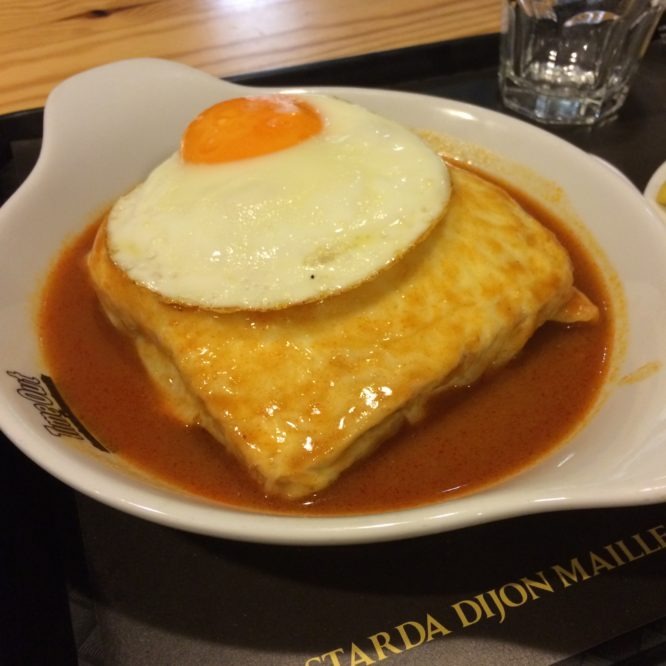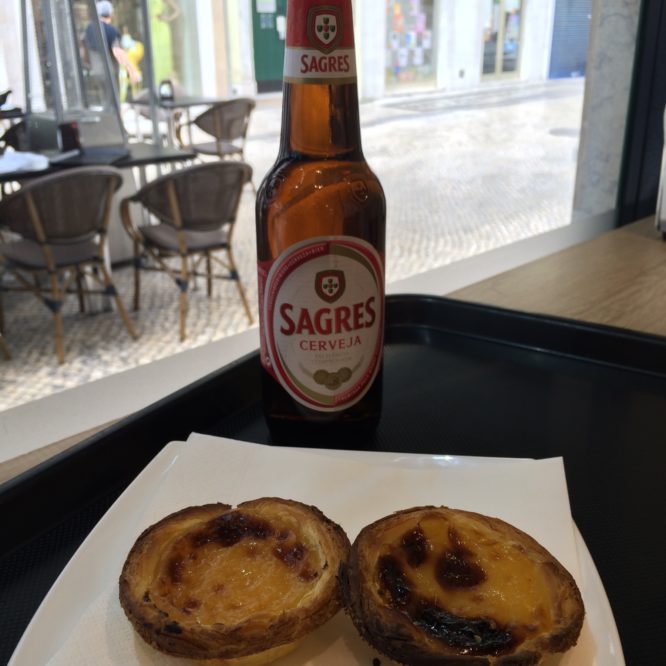 All the food we tried in Portugal was delicious! I mainly ate fish at restaurants, since "bacalhau" (stockfish) is one of my favourite dishes of all-time.

I was surprised by how tasty and fresh the food was, also served with very balanced sides of salads most of the time.

Since my husband is an ice-cream lover, we could not miss trying these too. And, oh boy, they were tasty!

We were also recommended to eat at the Timeout Market Lisbon, a huge space where many different restaurants are located and offer their services. It is possible to eat anything, from very traditional Portugese dishes, to other options from across the world.

We tried the famous Portugese Francesinha, basically a sandwich made of bread with different layers of meats, covered with melted cheese, and a fried egg on top.
Usually, it is served with a sauce of tomato and beer and with a side of french fries. Although not the healthiest option, we had to try it! I thought the Francesinha had a very strong taste, good for sure, and very fulfilling! I would recommend sharing one for two people, and to save room to try other delicious options at Timeout.

Another food option not to miss is the Pasteis de Natas, a Portugese custard tart, and the Sagres Beer.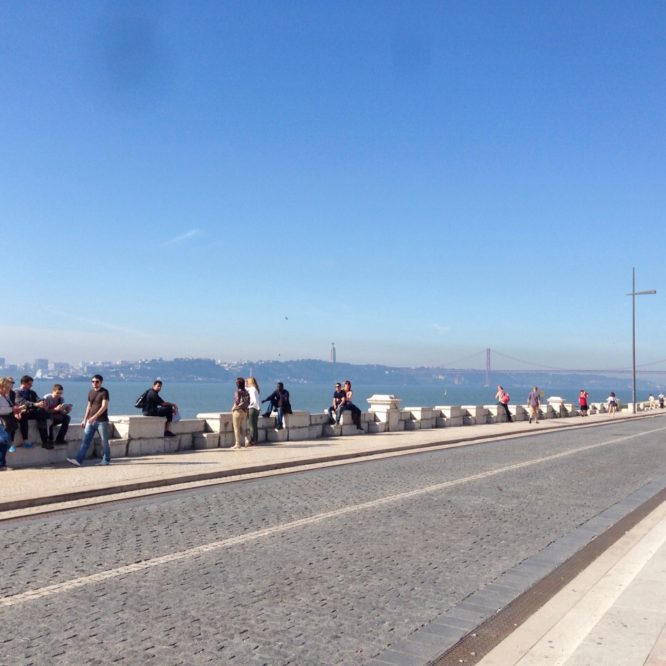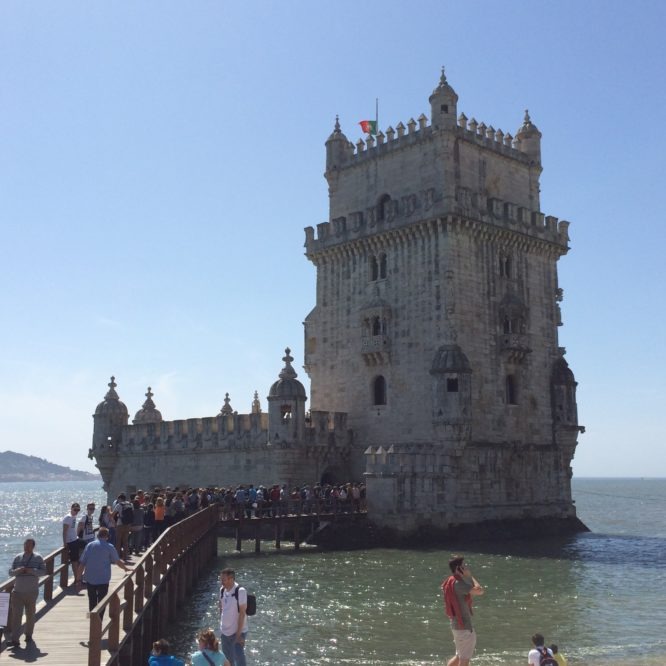 Our hopes to escape the cold German cloudiness of April was rewarded with stunningly warm and sunny weather in Portugal. It was a joy to wear a t-shirt in April and sunbathe while having an ice-cream.

We were lucky to find great weather, with temperatures during the day that were up to 23 degrees Celsius, and in the evening down to 18 degrees Celsius.

Overall, Portugal is a country where the climate is among the best in Europe for warmth and days of sun per year.

Therefore, if you are seeking some days to escape the cold winter, Portugal might be the right option.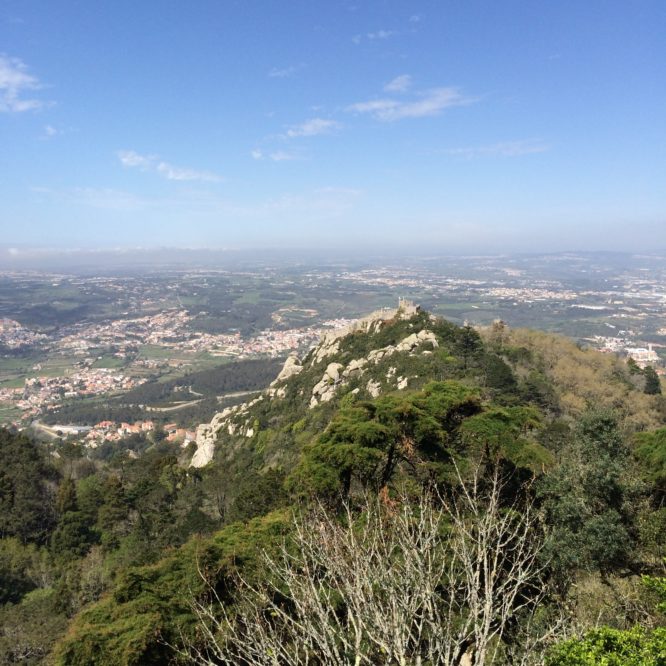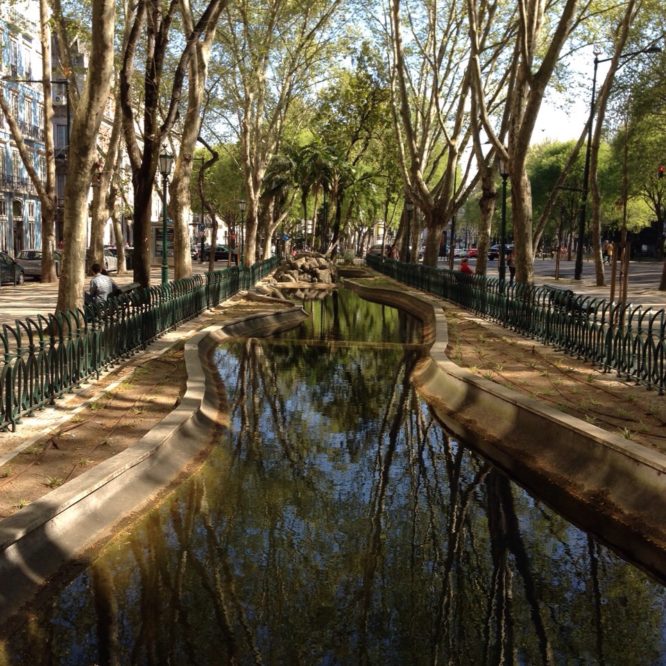 When we had the chance to visit the Pena National Palace in Sintra, we realized how green the surrounding areas of Lisbon were.

Pena National Palace is located on top of the hills of the Sintra Mountains. It is considered a national monument and the palace itself is a UNESCO World Heritage Site. 

Before deciding to take a local bus, we hiked for about 40 minutes along the green paths that lead to Pena National Palace. We were surrounded by pure nature and, although the hike was steep, it is something that I would recommend trying.
When we reached the top, we were able to enjoy the green environment all around us from the terraces on different levels of the Pena Palace.
We did not expect to be so high and so immersed into nature. We loved it!
Summary - Portugal Country of Savvy People
Our trip in Portugal only lasted 4 days but we were only able to discover the southern part of the country, Lisbon, and its surroundings. Although the time was short, the experiences we went through will last for us a lifetime. 
We also found this graffiti on our last night in Lisbon: "Die with memories, not dreams". This has been our motto since then. Portugal showed us much more than just what I stated and it opened our eyes to more exploration and adventures.
Articles You Might Also Like