Düsseldorf is a beautiful city that spreads along the Rhine River, in the state of North-Rhine Westphalia, Germany. The city is close to the border with the Netherlands and Belgium, and is located a few kilometers north of Cologne. For this reason, Düsseldorf can be considered a strategically located city in Germany that allows you to easily discover other neighbouring countries, too.

Over the years, Düsseldorf also became a flourishing city thanks to the abundance of job opportunities in the field of telecommunication and in the financial sectors. Many international companies have their headquarters in Düsseldorf, such as L'Oreal, Henkel, and Metro. The city is also an important financial center for Japanese credit institutions. For this reason, the Japanese population in Düsseldorf is so abundant that there is even a Japanese district.
Düsseldorf is the second largest city in the state of North-Rhine Westphalia, and it has welcomed many tourists over the years, due to the presence of an international population and its international airport located north of the city center.
For all these reasons, the city is very alive all year long.
In November, the Christmas markets open their doors to Germans and many tourists also from Belgium and Netherlands. In the Spring and Summer time, many events take place in the parks and along the Rhine River, such as The Museum Night, international food tasting events, and concerts. In May, there is also a full day dedicated to the Japanese culture (Japantag Düsseldorf).

Additionally, in the north part of the city, there is a big center where exhibitions take place and invite many international business companies and entrepreneurs to visit Düsseldorf every year.
These are some of the reasons why the city of Düsseldorf offers a large variety of entertainment to their population and tourists. There are many high quality cafes and restaurants spread everywhere across the city, which are worth trying if you are visiting.

In this article, I have decided to mention some of our favorite ones. These are restaurants and cafes that we stop at when  friends and families visit us in Düsseldorf, or also when we don't have guests over but we want to treat ourselves.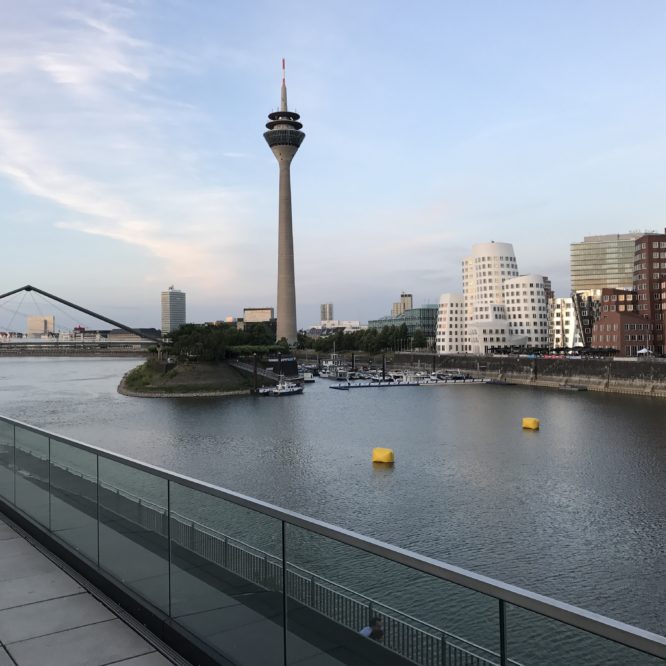 Qomo is the highest restaurant in Düsseldorf. It is located on the top floor of the Rhein Tower, in the harbour district of the city (in German called "Düsseldorf Hafen"). 
You can enjoy two experiences at the same time at Qomo – eat delicious food or just drink an aperitif with a majestic view of the city.

The location is very elegant and from the top of the tower, the whole city opens in front of you. In fact, in the restaurant, there is a mechanism that allows the floor to rotate 360 degrees in a time span of just over an hour. There are big floor-to-ceiling windows that will allow you to take in the whole experience. You can either enjoy a drink and order finger foods, or you can reserve a table to taste a full dinner.

The head chef is Japanese and they offer a modern Japanese fusion style cuisine.
We usually come to Qomo to have some drinks when friends and family visit because the view is stunning and it is really unique in this city.
We also reserved a table on a Saturday night and we enjoyed a Japanese fusion dinner that we still speak about today.
The fact that the whole floor rotates on its axis allowed us to look at all of Düsseldorf while sipping our drinks and having dinner.
It is a very unique experience, very recommended!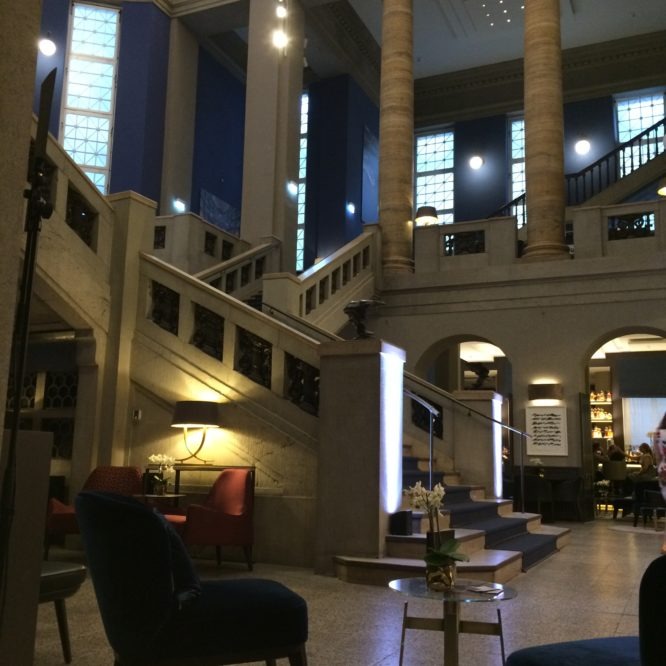 This is a casual chic bar that we go to when we are in the mood of having a drink before dinner.
It is also the place I make sure to bring my parents when they come to visit us. It is located in the Altstadt (the Old Town, in German), exactly in the heart of Düsseldorf.

We like it so much because the atmosphere is very chic, yet cozy.

The bar is located on the ground floor, where the living room of The Wellem is situated. While the bar sits on the right side, on the left there are cozy velvet sofas where you can sip your drinks. Ah, did I mention the piano music? That's right, you can relax and have your drinks while listening to live music being played by skilled artists, right next to you.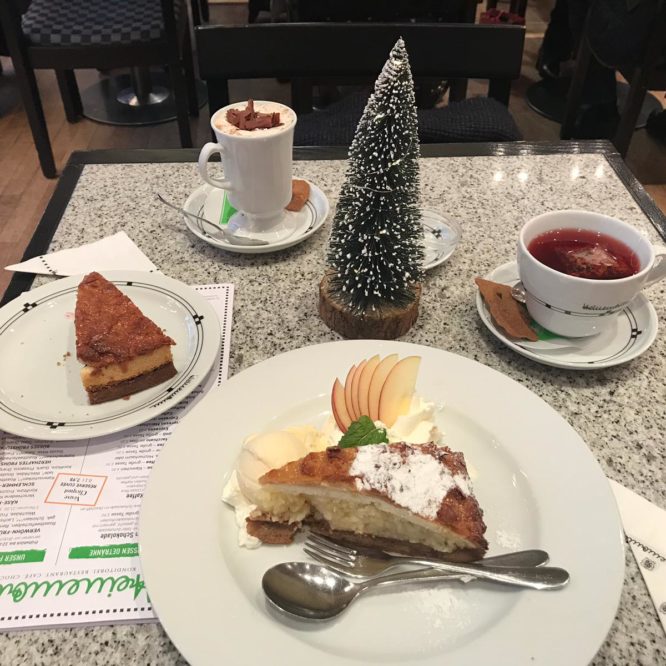 Heinemann is an institution in Düsseldorf. It is a very renowned confectionery where you will be sure to taste the best desserts, chocolates, and other sweets of the city. There are several Heinemann confectioneries, spread across the whole city center.
Some locations only produce and sell sweets and deserts, while a couple of other confectionaries also have their own restaurants, too.

My suggestion is to visit Heinemann and either take a sweet bite to go, or to sit at their tables and enjoy a cup of coffee with a slice of cake during a break. It is also ideal for brunches. They have so many options! Also, the staff is nice and friendly, you will really enjoy the whole experience there, in a very relaxed setting.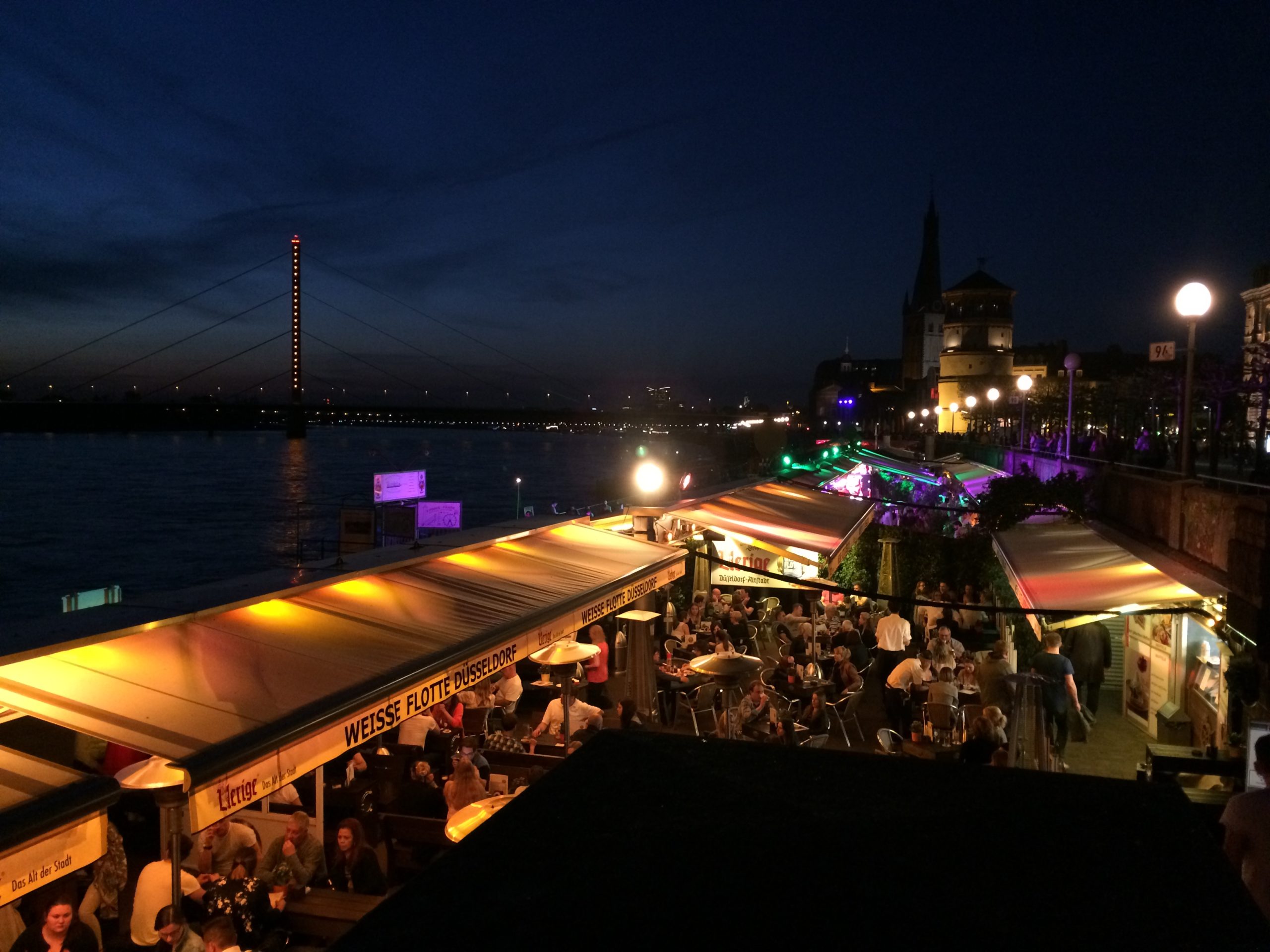 For people living in Düsseldorf, Kasematten (literally "Casemates") is one of the hottest meeting points in the city. The casemates are an architectural style that served as living and storage chambers in the old days.

Nowadays, it is an area that spreads along the river from Burgplatz to Schulstrasse and offers drinks, food, and an amazing view of the Rhine River . It is located along the walking path on the river, therefore it is also a great location to watch people and tourists pass by.

We come to Kasematten often to enjoy a beer after work, in a very relaxed context. It is the place where we always meet someone we know.
It is also a great place where we bring guests, if we want to have a casual dinner or just drinks.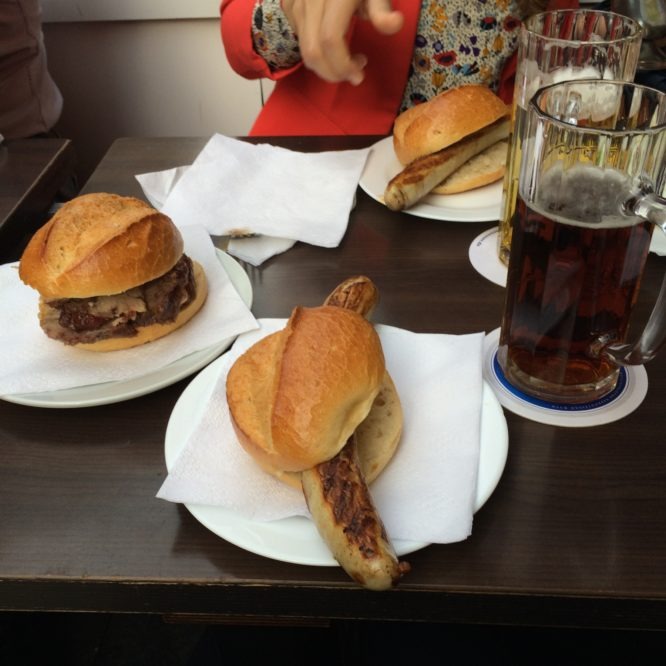 Uerige is the first place I stepped foot in when I came to Düsseldorf the first time. They told me that this is the right place to get familiar with the city, so I could not miss it.
And today, I still consider Uerige the place I need to bring our guests if it is their first time in Düsseldorf.

Uerige is a craft brewery where you can drink the famous beer of Düsseldorf, called "Altbier" (Old Beer in English). It is located in the heart of the Altstadt, therefore you cannot miss it. You need to try it!

At Uerige, of course the beer is a must to try, but if you are hungry, too, the staff offers a menu with a good variety of typical German food.

Tip: when you are done drinking, put the coaster on top of your glass of beer, otherwise the waiter will keep bringing you glasses of beers!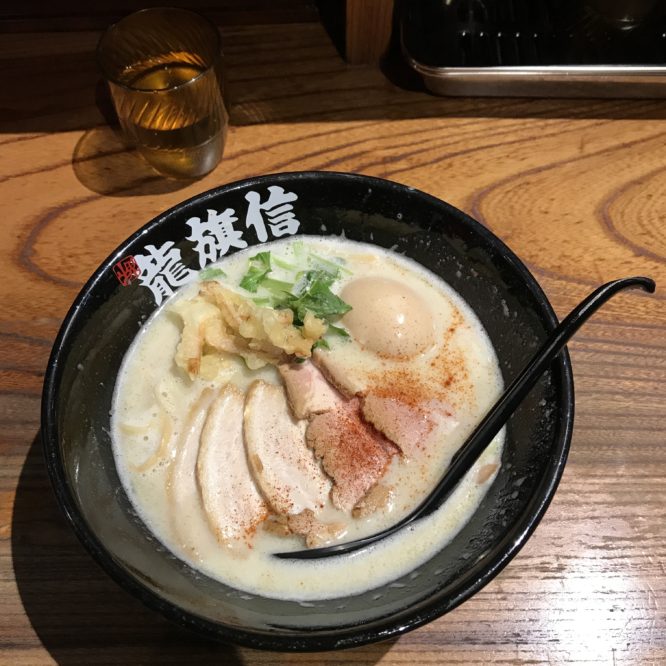 Takumi is the ultimate restaurant to try if you are a ramen lover. This place is located on the Immermanstrasse, the main street in the Japanese district.

Recipes are authentic as all the staff is Japanese. Indeed, many Japanese people of Düsseldorf visit this restaurant if they want to eat ramen as in Japan.
Of course, the menu offers many other traditional options, not only ramen. Additionally, the restaurant is also vegetarian-friendly.

We like to visit Takumi on colder days during lunch, when we are shopping around in the city. The restaurant is pretty small, therefore you might have to wait a bit before sitting at the table.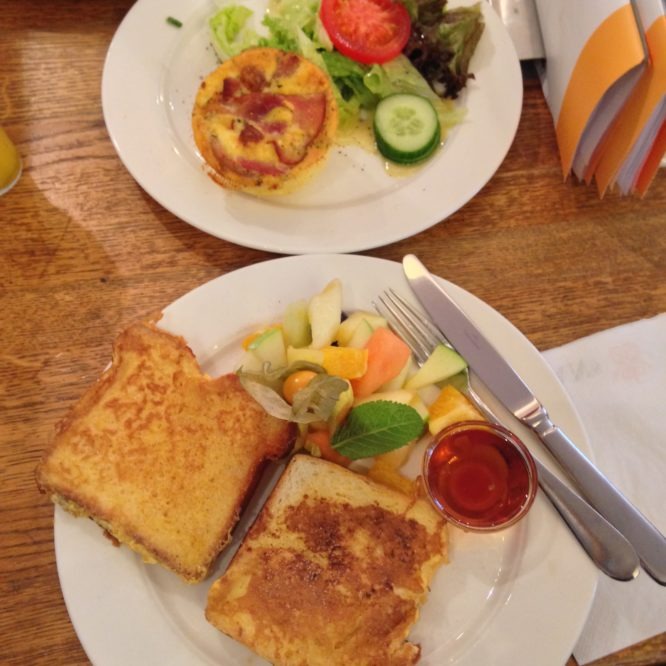 Bastian's is another great place to eat in Düsseldorf. Officially, Bastian's is a bakery, but it became a restaurant that offers a great variety of food, besides delicious cakes and desserts.

Bastian's is our place to go to on Saturdays when we want to enjoy a tasty brunch. Options are endless and everything we have tried was always top quality. You can choose among many options of cakes, croissants, different sorts of breads with sweet spreads or with cold cuts, salads if you prefer a lighter lunch, warm soups, and many other options.

The bakery is located in the Altstadt, in Carlsplatz 24. There are many tables available, and you can choose to sit either inside or outside.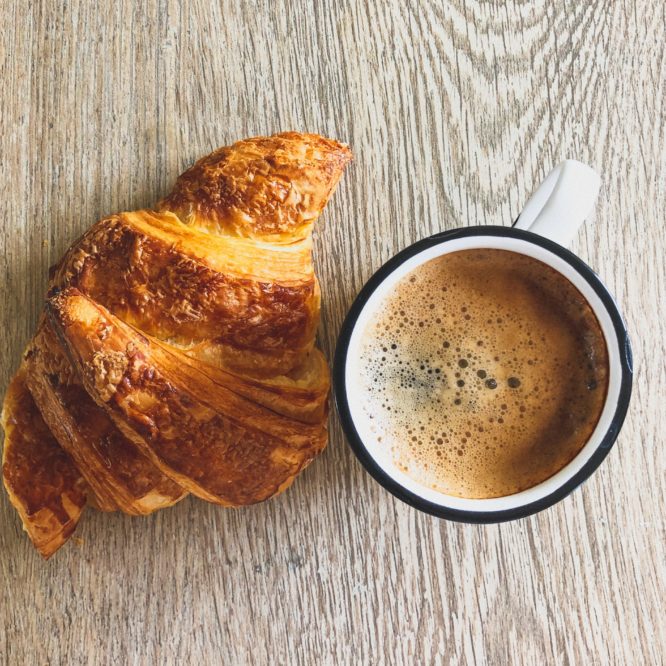 Bistro Zicke is one of the most charming restaurants I have been to in Düsseldorf.
The most impressive thing is that all the walls of the bistros are covered with original posters of older movies and exhibitions. I remember when I entered the restaurant for the first time, I was so impressed by how picturesque the interior was! 

It is located in the old town and it is a restaurant with a mix of French & German culture.
The bistro offers fresh food for lunch and dinner, but my suggestion is to try their breakfast and brunch options!
The croissants they offer are just the best!

The inside of Zicke is so cozy that I would recommend trying to find a spot inside, but nonetheless, the restaurant also offers outside seating.
The area is pedestrian-friendly and very quiet, therefore be assured you will enjoy your conversation while sitting outside.

This is the place I come often to enjoy a cappuccino and a croissant with girl-friends visiting from Italy.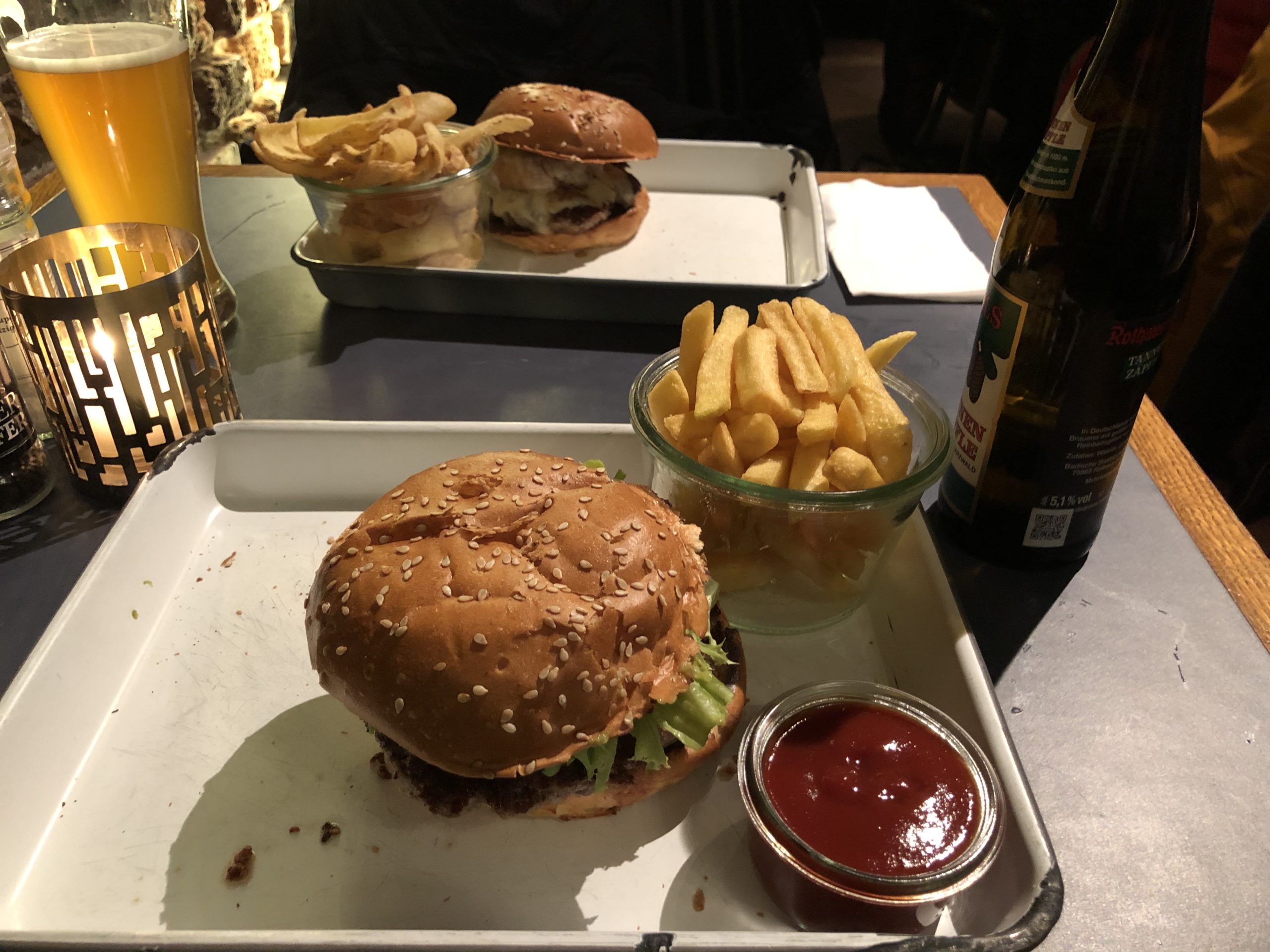 Are you a hamburger lover? Then, you cannot miss Bob & Mary.
This is a modern and trendy restaurant with 2 locations in Düsseldorf, one in the old town, and one in the harbour district.

There are many other options on the menu if you are not in the mood for burgers. Also, the restaurant offers delicious vegetarian and vegan meals.
There is something for everyone here!

In addition, the location in the harbour district has a lot of long tables outside, which is a great option for big groups and to enjoy the warm weather in the summertime.

Bob & Mary is a restaurant that we visited with friends and with family, too. The quality and variety of all the options is so high that no one has  ever been disappointed.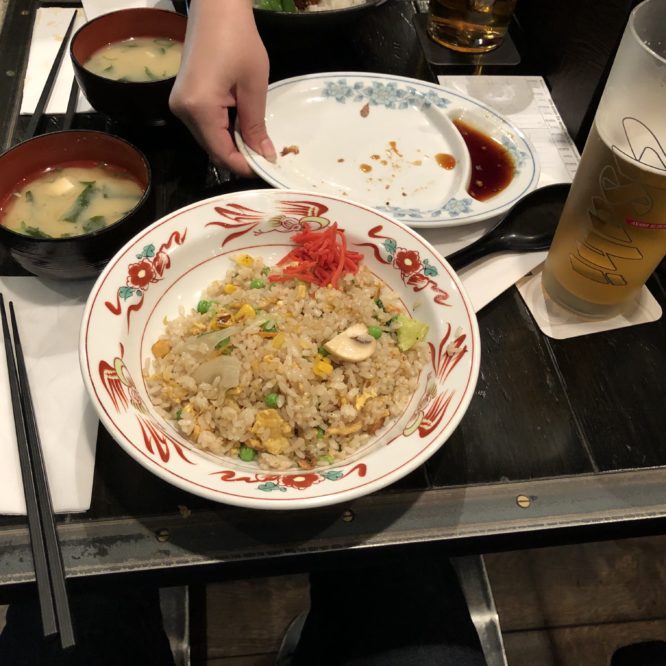 Naniwa is another top choice if you like Japanese food.
In fact, there are 2 Naniwa restaurants, both located across each other. One is called Noodle & Soups and the other focuses on sushi.

Naniwa Noodles & Soups is a small restaurant that opened its doors more than 20 years ago in Düsseldorf. The address is Ostrasse 55.
The menu offers all types of typical Japanese foods, from yakisoba and rice dishes, to authentic ramen noodle soups.

The quality of food is so high that it is very common to wait in line to sit at the restaurant. But you will not be disappointed!

Naniwa Sushi & More opened its doors more recently and it is located on Klosterstrasse 68a, across from Naniwa Noodles & Soups. The menu offers a great variety of sashimi, sushi, temaki, but also udon and soba.

Naniwa is the place we choose when we are in the mood for Japanese dishes other than ramen. When we go with friends, they are never  disappointed with the options either!
Düsseldorf is a big city, full of international people living and working here, with plenty of activities to do, and places to discover. It is also a city where you will never get hungry! There are so many options, and the overall quality is so high that trying these restaurants you will add great memories to your trip.
Articles You Might Also Like