Venice is one of the most beautiful cities to visit in Italy. While living abroad, I have heard many people telling me: "Wow, you come from Venice! What are your recommendations if I will visit?", or "How do you reach Venice from the Airport?", or again, "When would you recommend us to visit Venice?"
With this in mind, I have decided to craft a simple post where I give basic tips from  a local if you are planning to visit this island in Italy. I have highlighted answers to the most typical questions that I have received as a local on the best time of the year to visit, transportation options, the best Venice rooftop bars, and other tips and tricks.
Approximately 20 million tourists visit Venice every year, and this is because indeed Venice is an open-air museum. It is a city packed with activities for single travelers, couples, and families. But, what is the best way to appreciate what this city has to offer? And what is the most convenient way to reach Venice once you have landed in Italy?
Let's start to tackle the frequently asked questions.
How to Get to Venice From the Airport
Water Taxi Venice Airport
If you are traveling from the USA or any big city in Europe, you will most likely land at Venice Marco Polo International Airport, located approximately 15 km away from the city. There are several ways that you can reach the city of Venice from Marco Polo Airport, and it mainly depends on your budget and on how quickly you want to reach the island of Venice.
The most direct and cost efficient route to get from Venice Marco Polo Airport to the city center is by the public water taxi that starts from the airport and has several stops around the main island of Venice. I say it is direct and cost efficient because you can get off directly onto the island of Venice from the public water taxi, most likely quite close to your hotel destination, which is a positive aspect if you travel with heavy luggage.
With other public transportations instead, you will only reach Piazzale Roma and then you will need to walk your way to the hotel.

You will be able to reach the public water taxi location at the airport simply by following the indication you will find at the departures/check-in level. Look for the blue "Transporti via acqua / Water Transport" signs and you will reach the pier  through an automated walkway that takes approximately 8-10 minutes.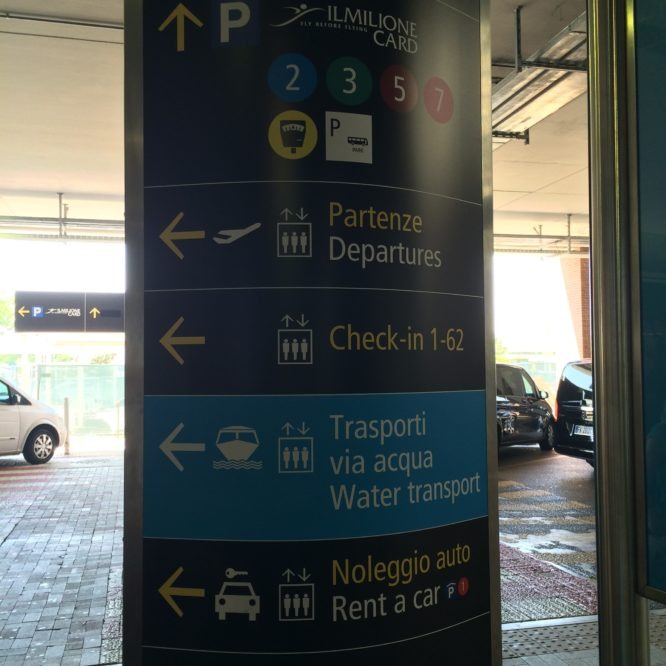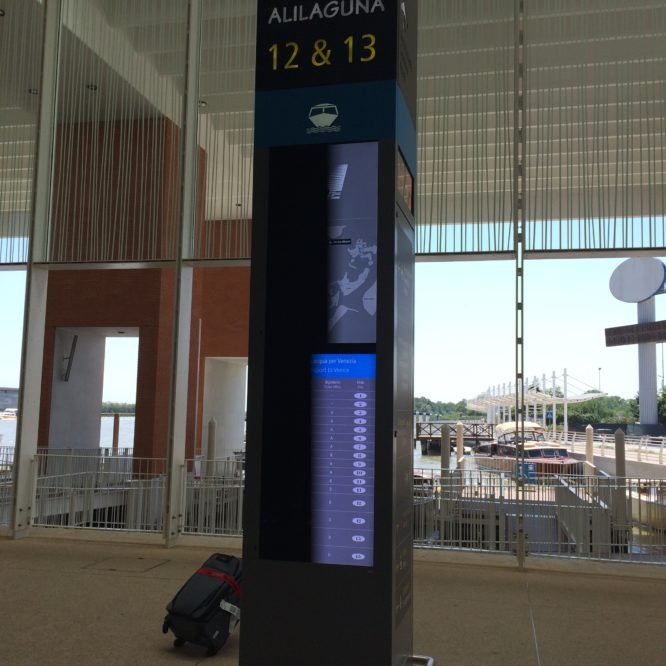 The public water taxi lines are served by the Alilaguna Venice company, and they are situated at the piers 12 and 13. All other piers are for private water taxis. 
A ticket from the Airport to Venice with a public water taxi costs about €15 one way/ €27 round trip. You can purchase the tickets online at the Alilaguna Venice Website. 

On the same website you can also check the 3 lines that are available, and determine which one is the best to take to reach your final destination in Venice (usually the Blue Line will do).

The trip to your final destination will take about 40 minutes and will provide you with breathtaking views of Venice from the water.
Another convenient option, but one that is definitely more expensive, is to take a private water taxi from the airport to your destination in Venice. Private water taxis are located near the public ones at the pier. Although private water taxis are more expensive (usually a one way trip to a hotel in Venice averages €110/€120, depending where your hotel is located), this can still be an option for bigger groups of people that can split the cost.

The advantage of this option is that you will reach Venice in approximately 20 minutes, the views will be stunning, and the private water taxi will leave you in very close proximity to your hotel destination. 
Another option to reach Venice by public transportation includes taking a bus from the airport directly to the Island of Venice. 
The ATVO express bus connects you directly to Venice in about 20 minutes, non-stop. You will arrive in Piazzale Roma, Venice – this is the main bus station of Venice where all taxis and buses arrive and depart the island. From Piazzale Roma you will need to walk to your hotel/airbnb destination or  take a vaporetto.

ATVO express bus departs the Airport Marco Polo every 20 minutes. The price is €8 one way, €15 return ticket. Tickets can be purchased directly at the airport (ATVO machines), or online.
Although this option is for sure cheaper than the other ones, I recommend that you check  the distance of your hotel from Piazzale Roma in advance. It can be overwhelming to be walking with heavy luggage to reach your destination after a long flight.
Another option that I would recommend is to take a private taxi car from the Airport Marco Polo. You will be able to reach Venice in about 15-20 minutes depending on traffic, but it is definitely a more expensive option compared to buses and the public water taxi from Venice Airport. One way taxi ride from Venice Airport to Piazzale Roma costs about €45-50.
What is the Best Time of the Year to Visit Venice, Italy
Venice is a city that millions of tourists come to visit every year. June, July, and August are the most crowded months, therefore I would not recommend visiting the island during those times if possible.
Also, during these summer months the city of Venice can reach very high temperatures (even up to 38 degrees Celsius/100 degrees Farenheit). Sure, restaurants and hotels are well equipped with air conditioning to provide guests the most comfortable stay. But the weather in June, July, and August can be very humid and unpleasant.

Therefore, my recommendation is to visit Venice in months when the temperatures are not as high and the city will not be as crowded. My favorite months to visit Venice are April, May, September, and October.
Venice Rooftop Bars - What I Always Recommend
In this section  I highlight the most convenient ways to enjoy the best and most unique views that only Venice can offer. In fact, this is a city that must be discovered by foot, walking in the narrow street and crossing bridges on canals. This can be very tiring, especially if you are not used to walking a lot.
For this reason,  especially on the warmer days, a break is needed and I recommend to keep enjoying the city while sipping a glass of beer or prosecco from one of the rooftop bars. Also, "Aperitivo" or happy hour is a must that every Venetian takes the time to enjoy almost every day before dinner, therefore I recommend you doing the same!
These are my favorite rooftop locations to admire Venice and its sunset colors:
Terrazza Danieli is the rooftop of the well known Hotel Danieli, located in Riva degli Schiavoni 4196. The restaurant is famous worldwide for its high quality cuisine, and it is open all year for lunches and dinners. Additionally, during the summer time you can enjoy an aperitif from the terrace, with a view over San Giorgio Island and Punta della Dogana. Believe me, it is stunning!
Price: $$$
This is the terrace located at the 8th floor of the Hilton Molino Stucky Hotel (a converted flour mill).
Located on Giudecca, from this terrace you will enjoy views of Venice in front of you. I recommend that you sip a glass of prosecco while watching the amazing sunsets from the Skyline Rooftop Bar.
Price: $$$
Located in Campo Santa Sofia 4198/99 Ca' D'Oro, this is the renowned terrace of the Hotel Ca' Sagredo. The terrace is open between April and October, and it is another great location to enjoy an aperitif before dinner. Sit back and be entertained by the Canal Grande views and the rooftops of the city.
Price: $$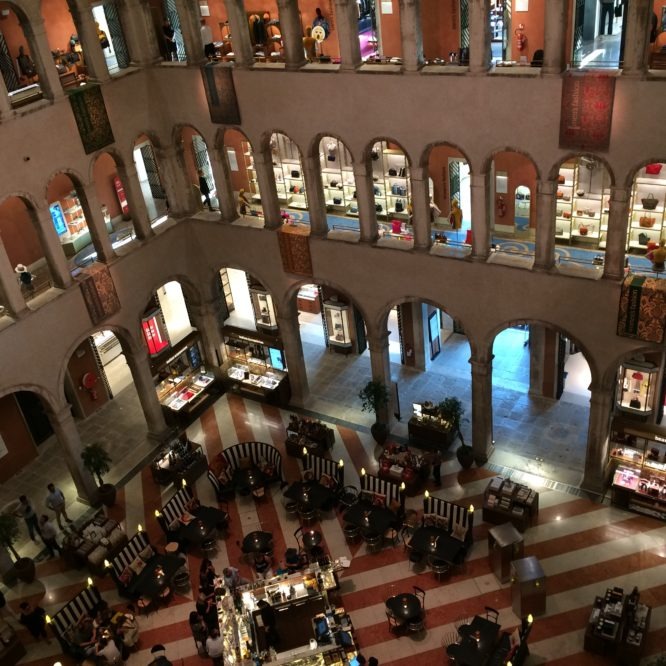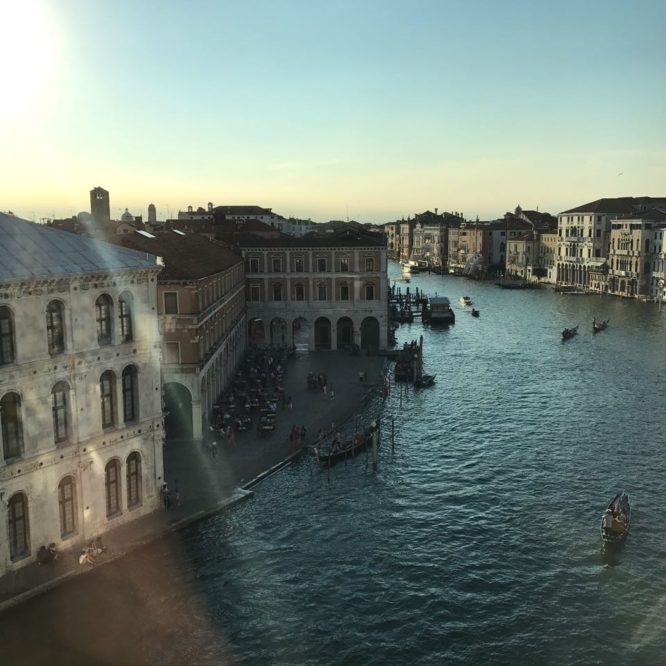 It is possible to enjoy breathtaking 360 degrees views of Venice for free from the Fondaco dei Tedeschi.
Fondaco dei Tedeschi is a historical palace situated near the Rialto Bridge, directly facing the Canal Grande. Originally the building was used as a point of collection of goods coming from Germany. Today, the whole building has been renovated into a luxury shopping destination. Fondaco dei Tedeschi is the home to luxury brand shops and a refined restaurant on the ground floor.

The rooftop terrace is accessible for free between 10:30AM and 6:30PM. I recommend an online reservation, in order to ensure you can access the terrace (no more than 40 people are allowed at the same time).
You can also access the terrace with no reservation, but you will need to book it through a QR code once you arrive at Fondaco dei Tedeschi.
Funny Questions I was Asked as a Venitian by Tourists & Non-Venetian Friends
Venice does not close. It is an island with inhabitants, shops, restaurants, hospitals, and hotels, as any other city in the world.
Is it true that there are no cars in Venice? How do people get around?
Yes, this is absolutely true. You will not find any cars on the island of Venice. You can reach Venice by car from nearby cities of Mestre and Marghera, but you will need to park the car at one of the public parking spaces near Piazzale Roma, before visiting the city.
Venetians are used to walking everywhere they go. For reaching long distance destinations within the island, Venetians use vaporettos, which are public transportation ferry boats.
Are there people actually living in Venice?
Yes, Venice is home to approximately 60,000 people. Most Venetians living in the island belong to historic Venetian families who have stayed on the island for generations. The school system works as in any other Italian city, and Venice is also home to a very renowned university, Università Ca' Foscari.

Here, it is possible to study any subject, from Economics, to Language, Literature, and Science. Many students across the globe spend exchange periods of time in Venice, studying at Ca' Foscari.
Do Venetians have a driver's license?
In general, yes. Most Venetians own a driver's license. Usually, 18 years-olds would  practice driving in the nearby cities of Mestre and Marghera. Most Venetian families also own a car that is parked in the parking lots near Piazzale Roma, and they pay an annual fee.
Do Venetians ever leave the island?
Yes! Although there are plenty of things to do in the city, Venetian families usually travel within Italy or abroad during the summertime and during winter holidays.

One of the most loved cities that Venetians frequently visit is Cortina d'Ampezzo, both in the summer and during the winter holidays. Also, since it is convenient to reach the international airport from the island, many Venetians travel abroad too.
Visiting Venice is really an experience I recommend that everyone should experience at least once.
Venetians are very proud of living on the island, they take care of its beauty and of the millions of tourists that come to visit every year.
The tips highlighted in this article are basic ones to make you feel comfortable when you start planning your trip.

Once you have chosen the best time that suits you to visit Venice, relax while planning your daily adventures. Getting from the international airport to Venice is easy and does not have to be expensive. Also, don't miss the most beautiful views that the city can offer, just relax on the rooftop of some of the most beautiful historical locations, while having a drink.
If you are looking for an accommodation in Venice, take a look at our post on the Best Airbnbs in Venice.
Articles You Might Also Like