Capri is definitely one of our most beloved places in Italy. It has a special place in our memories not only because we spent our honeymoon there back in 2017 , but also because it is where we met some of the most amazing people we know that we still call friends today. We were suggested to travel to Capri for our short honeymoon after our wedding, when we had only 4 days for ourselves. We chose it due to its location (we wanted to relax somewhere by the sea) and because it was easily reachable from Venice, which is where we got married. 
The suggestion could have not been a better choice for us. Our short vacation in Capri in September 2017 was one of the most memorable still today.
Capri is an island with chic Italian style, beautiful terraced gardens, and amazing views over the Tyrrhenian Sea and the Gulf of Naples. It also offers delicious Neapolitan style pizza, luxurious fashion boutiques, colorful flowers, and narrow streets. Overall, an atmosphere of pure relaxation radiates throughout Capri.
There is something to do in Capri for everyone: if you love to swim and sunbathe, this is the perfect place to be. But you can also hike up to Monte Solaro and Villa Jovis if you want to stay fit. If you love romantic views, then the sunsets over Faraglioni will leave you breathless. Additionally, if you love Italian cuisine, you will be able to enjoy some of the most delicious dishes of your lifetime in Capri. There are plenty of restaurants at different budget levels that offer high quality food, spanning from pizza and pasta, to fish, and meat.
Before highlighting the things you cannot miss in Capri, here are our suggestions if you are planning your trip to this island.
In our opinion, the best time to visit Capri is from late April until October. If you want to skip the crowds, then you might want to avoid the months of July and August.
The island is located in the Tyrrhenian Sea, on the south side of the Gulf of Naples. It is easy to reach Capri by ferry boat from Naples, because the city offers connections very often. If you are interested, you can find the timetable here.
The ride from Naples takes approximately 1 hour and you will then arrive at Marina Grande in Capri. This is the main harbor of the city and one of the lowest areas of the island. A 20 minute walk or a short taxi ride will lead you to the upper part of the city, where your Airbnb or hotel is most likely located. It is also possible to take a funicular from Marina Grande up to Piazza Umberto I (which is best known as Piazzetta). Once here, you can walk to your accommodation.
Since we discovered Capri, we try to visit the island and its lovely people at least once per year. We always book a room at either Casa del Solitario, or at Villa Patrizi.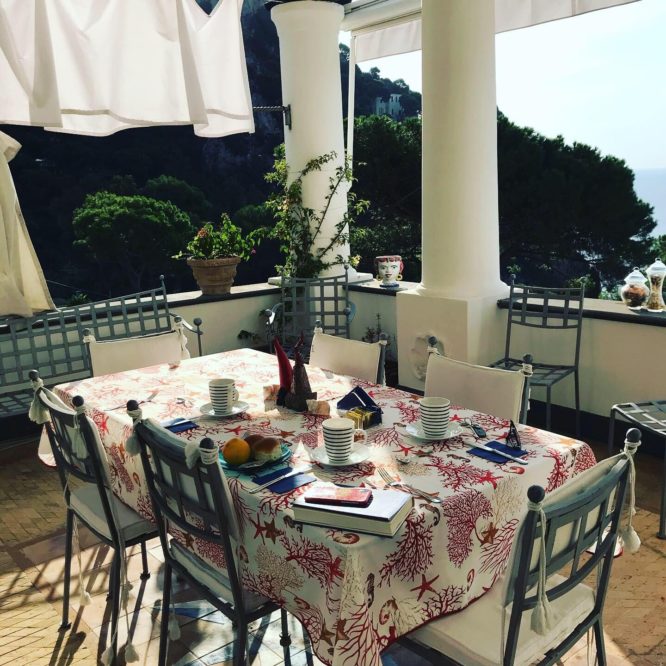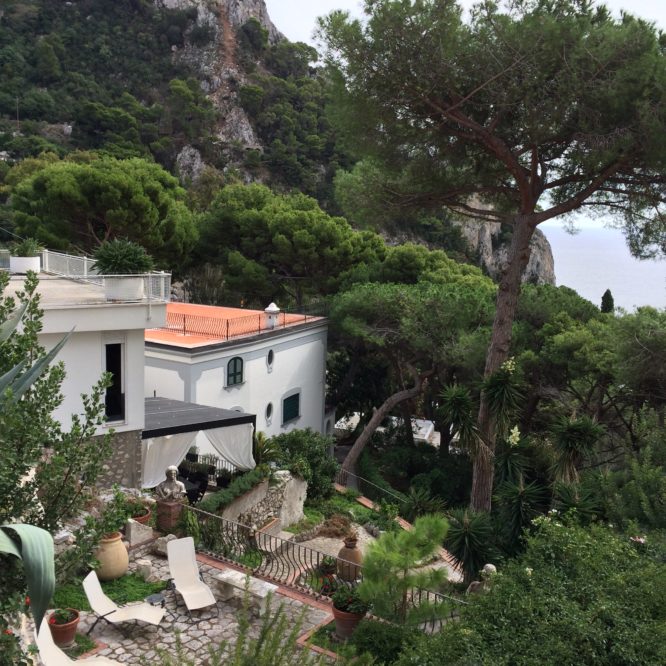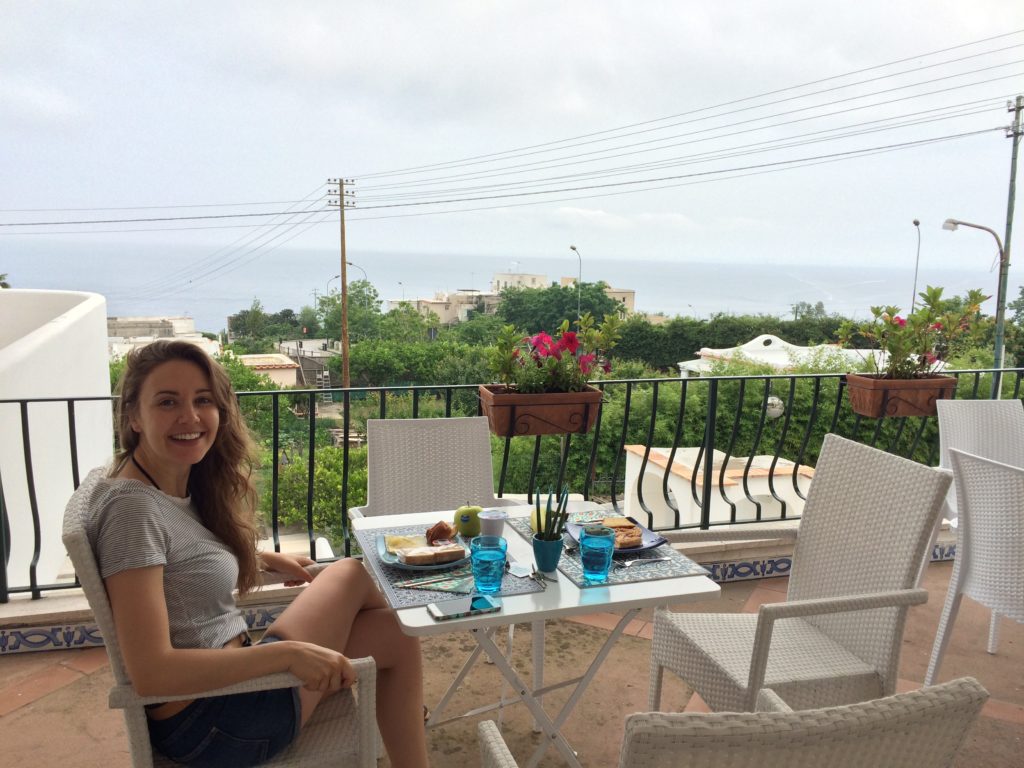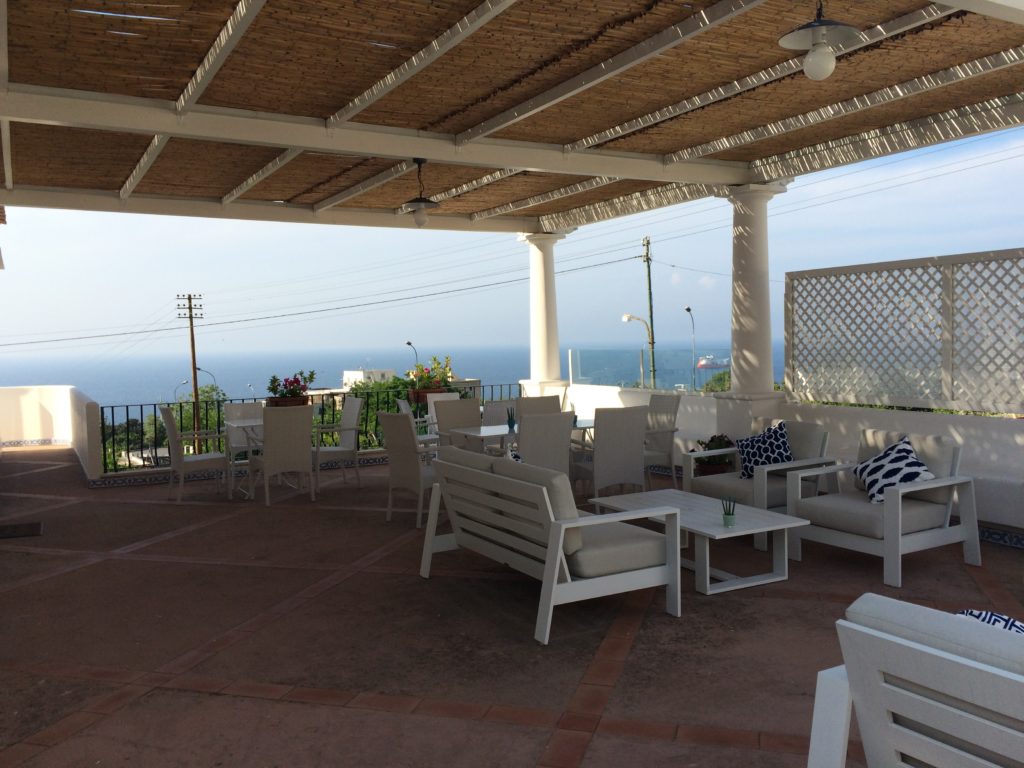 Both Airbnbs are located just a short walk from Piazzetta and offer some of the most spectacular views over the Faraglioni and Marina Grande.
What we like the most about Casa del Solitario and Villa Patrizi is the hospitality that their hosts always provide us. We are so lucky to be able to call them friends by now. The two Airbnbs are historic villas in Capri. Casa del Solitario features an amazing terrace that faces directly the Faraglioni, while Villa Patrizi offers  a huge patio and an outdoor pool to help you relax.
Breakfasts at both Airbnbs are abundant and the variety of options that constantly leaves us speechless. Actually, having breakfast at Casa del Solitario or Villa Patrizi is always one of the most amazing parts of our holidays in Capri! The experience of feeling the morning breeze and looking over the sea while sipping a coffee is one that  we love.
At this point, we are ready to start our list of things you cannot miss if you are visiting Capri, Italy.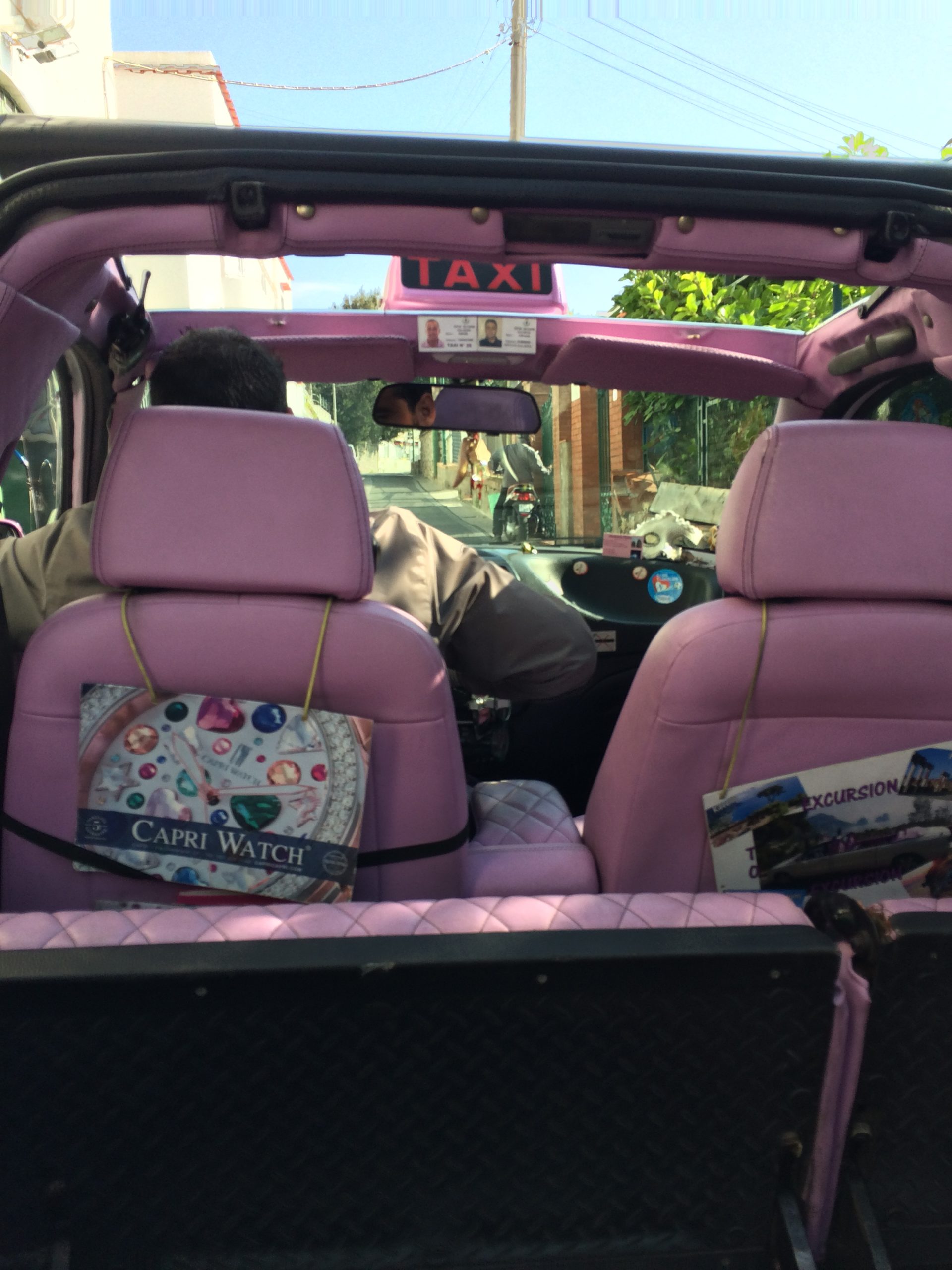 Capri amazed me since the very first moment I stepped foot onto this island. When we first arrived at Marina Grande, we were eager to reach Casa del Solitario pretty quickly, therefore we looked for a taxi to drive us to our accommodation. 
Taxi cabs are located at the harbor and they are unique in their style: they are white cabrio cars that allow you to breathe the fresh air while driving to your destination. What I liked most is the fact that you can stare at the surroundings around you while the breeze refreshes you after the ferry trip.
I remember that I could not stop smiling the very first time we took the cab! Everything was so beautiful around me and I could fully enjoy the whole experience with a different perspective. What a treat!
Walks Around Narrow Streets
It is also possible to reach the accommodations by walking the narrow paths of the island. It took us approximately 20 minutes by foot to reach Piazzetta from Marina Grande. And the atmosphere all around you is so beautiful that you might just want to walk everywhere around Capri.
Capri is famous for its beauty in every corner: houses, B&B, villas, and hotels are some of the most well curated I have ever seen. The  gardens are refined in each and every detail with beautiful flowers that adorn the terraces and balconies of almost every accommodation. 
You will be able to discover some of the most amazing villas by looking through their metal gates. Some of them also have a pool, where it seems the ultimate dream is being lived!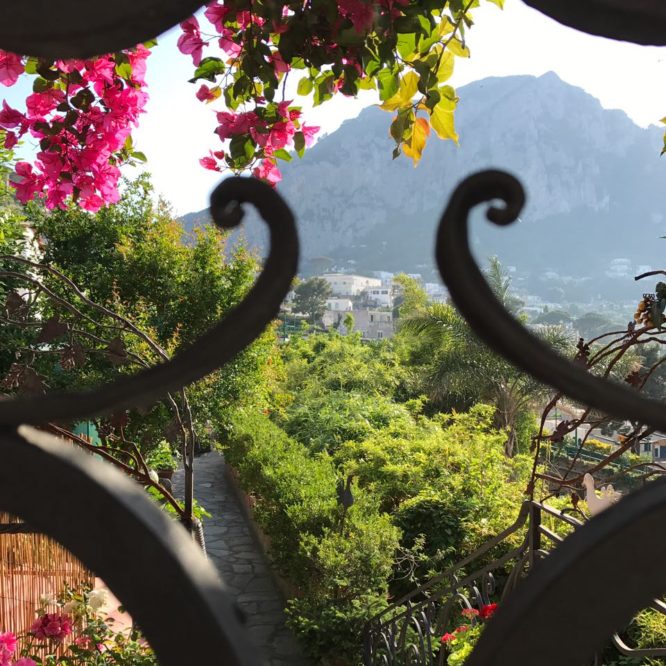 The streets around Capri are mainly narrow and most of them are just for pedestrians. For example, once you reach Piazzetta, the whole area containing luxury boutiques and restaurants is exclusively a walkable path. There are no cars in the heart of Capri.
Via Camerelle is one of the most famous streets of Capri. Located in the heart of the pedestrian area, you will find the most luxurious shops and some of the best restaurants on this street. Everything around is so well curated in each and every detail that you will think you are in a dream while walking around.
The views in Capri are beautiful in each and every spot. I know this might sound unrealistic, but once you visit this island, you will understand what I mean.
For example, walking along the beautiful Via Camerelle will take you to Via Tragara, where the iconic Ristorante Terrazza Brunella is located. If you keep walking, you will arrive at the Tragara viewing point (Belvedere Tragara), where the view will leave you breathless. The 3 Faraglioni stand in front of you, with their majestic shape, rising from the sea. These coastal rocks are so beloved by Caprese people that they even have their own names: Stella, Faraglione di Mezzo, and Scopolo.
But, amazing views can also be admired from many other locations: for example, from the top of Villa Jovis (Villa Jupiter), a historical roman palace built by the emperor Tiberius.
Be assured that Capri offers many possibilities to stare at the vastness of its sea and sky. Each and every moment is characterized by different colors of the sky and a different light. You just have to experience all of this yourself!
Piazzetta di Capri (Piazza Umberto I)
The Piazzetta is the place in Capri to enjoy the perfect happy hour. The relaxed, yet chic atmosphere offers many bars where you can order your drinks before dinner. You can unwind while watching people walking by. You will notice how Capri is the meeting place of people from so many countries! 
In Piazzetta, it is also possible to observe the beauty of the island over the Marina Grande. The colors during sunset are unimaginable, which only Capri can offer to its visitors.
We recommend stopping by Piazzetta and enjoying a glass of wine at least once while you are in Capri.
If there is only one place I would have to choose to go swimming and sunbathing in Capri, it is Fontelina.
Fontelina is a beach club with a restaurant located just in front of Faraglioni o me, it is just heaven on earth. The beach club is famous for its flat rocks where people can sunbathe on white mattresses. The typical blue and white umbrellas are the iconic symbol of this beach club.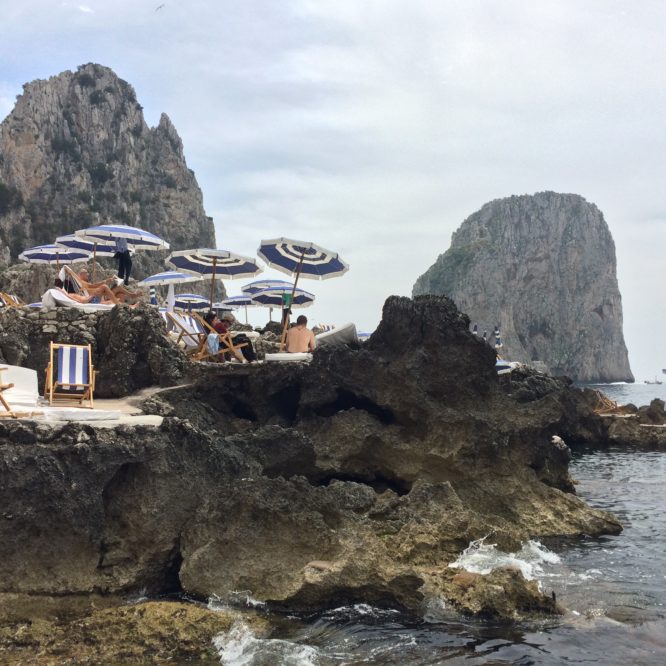 You can reach Fontelina by walking down the path that starts at the Tragara viewing point. It takes about 10 minutes and by the end the Fontelina Beach Club is on your right side.
The beach club also offers a restaurant located just by the umbrellas. The quality of the food is just great, for sure some of the best in Capri. 
Also, the restaurant offers their drinks service while you are sunbathing, too.
We recommend visiting Fontelina Beach Club and to make a reservation a day before. Also, make sure to bring your camera to take stunning pictures while at Fontelina since the surroundings are like nowhere else in the world.
Another famous beach club in Capri is Bagni Tiberio, located beside the Marina Grande, the harbor that you arrive in by ferry from Naples.
Bagni Tiberio takes its name from the emperor Tiberius who had many villas in Capri and loved this spot to relax by the beach.
Nowadays, this beach club is one of the most visited by Caprese people and Neapolitans, too. 
If you are hungry after swimming for long hours in the clear waters of Capri, you can have a break at the restaurant that is situated just on the right side. The quality of the food is great, which matches the level of service from the staff as well.
Remember to book your spot in advance and bring your snorkeling equipment!
Bagni Internazionali is another iconic beach club in Capri. You might actually have already stumbled upon pictures of Bagni Internazionali, since the peculiarity of this location is its many terraces, the colorful umbrellas and sunbeds, the promenade, and the solarium that faces the sea.
We discovered Bagni Internazionali more recently and, since then, it is a beach club that we don't want to miss. The staff is very friendly when helping you with umbrellas and sunbeds, while the beach offers a great area to dive in, all while providing views that are a dream.
Ristorante Ciro a Mare is located by Bagni Internazionali and it is the best place to go for your lunch break. We had delicious meals every time we went there, and as always in Capri, the views from the restaurant were spectacular.
We had the pleasure to enjoy a great dinner with friends at Paolino in May 2018.
The restaurant is located near the Marina Grande and it is where VIPs and celebrities spend at least one night in Capri. Why? Well, besides the quality of the food, the restaurant opens its doors over a large terrace that is covered by lemons and the leaves of lemon trees. I can assure you that this location is unseen anywhere else in Capri and the atmosphere is unique, too.
The restaurant welcomes bigger and smaller groups and the menu offers a variety of meals to try. If you want to enjoy a dinner at Paolino, make sure to reserve your table beforehand.
Ristorante Aurora in Capri is another must-try. This is the oldest restaurant in the island, just a short walk from Piazzetta: this means that over many generations, the family that owns the restaurant was able to embrace and develop many typical Caprese traditions through their dishes.
Besides the high quality of the food (the menu offers a big variety of options, from fish, to meat and pasta, but also salads), Ristorante Aurora offers its guests a great selection of the best wines. You will need to try the desserts, too!
The staff is very friendly and we were even able to meet the owner, Mia, during our dinner.
Many VIPs from all around the world enjoy their meals at Aurora every year, so you should give it a try at least once.
Make sure to book a table beforehand, you will not be disappointed!
Villa Jovis is located on top of the Monte Tiberio in Capri and originally was a Roman palace built by emperor Tiberius. Today, this is the destination for hiking enthusiasts , since it is the second highest peak of the island (after Monte Solaro in Anacapri). The hike to the top will definitely make you sweat!
We hiked to Villa Jovis during our first trip in Capri. The whole journey took us about 1 hour from Piazzetta and many times we just stopped by many sites to look at the views, take pictures, and enjoy the surroundings.
When we reached Villa Jovis, the views were some of the most beautiful ones we've ever seen: the great expanse of the sea in front of you will leave you breathless. You will just want to sit and take in the beauty in front of you. Also, the  top of Monte Tiberio is quite secluded, so you can enjoy the sound of birds and the fauna that inhabit this area.
The island in Capri in Italy is definitely a destination to discover at least once in your lifetime. There are plenty of things to do and the time in Capri just flies by every time we visit.
This list only covers some of the many things that Capri offers to its visitors. We hope this can help you plan your visit here and that you will make some great memories there like we did!
Articles You Might Also Like