Introduction
As we learn more about how to effectively manage life and COVID-19, the world is slowly adjusting to a new sense of normal. We seem to have built a stronger understanding on how to handle daily actions, such as working at the office or shopping for groceries. However, one big question remains on the future of travel and what the best approach is for choosing the safest accommodations. We took a closer look at the biggest threats facing travelers specifically in hotels compared to Airbnb rentals and we have listed our advice below.
Regardless of what type of stay you choose, we believe that you should always be cautious and evaluate your own health as well the latest news on any hotspots of the coronavirus before you set off on your trip. But, with the right balance of care and planning, we believe that you can enjoy your travels and continue to explore the world.
Please note that the information on this article and this site is not intended to be a substitute for professional medical advice and is intended for informational purposes only. You should always consult a doctor or medical professional with any questions you have regarding your health or medical conditions.
Risk Factors – Person-to-Person Contact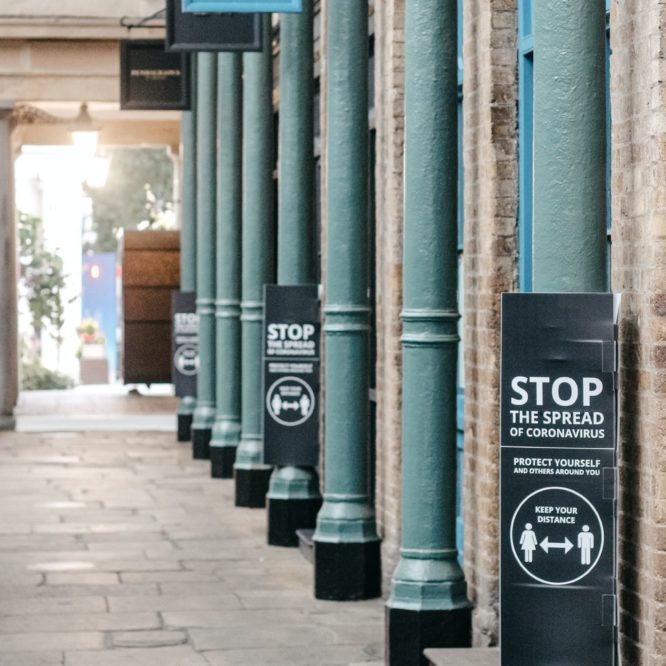 It seems that the primary method of transmission of COVID-19 is through the spread of respiratory droplets via person-to-person contact.
So, we've identified the biggest risk factor, which is other humans. What does this mean in the context of choosing a travel accommodation during the time of a pandemic? Let's breakdown the touchpoints for human interaction during a stay at a hotel and an Airbnb.
Check-In & Check-Out
Hotel: Most have live staff at their check-in counter, with large chains now offering contactless check-in and are also issuing room keys through their mobile phone app, but not all properties may be equipped with the latest technology to support it. Still, you can be assured that they have implemented the proper distancing and masking protocols.
Airbnb: Many hosts have set up contactless self-check in through a key in a lockbox, digital smart lock, or keypad to allow their guests to enter without ever having to meet. The availability of this option can be found through "Self check-in" icon on each listing page.
Shared Spaces
Hotel: There are several public areas where you may not be able to socially distance properly, including the lobby, elevators, narrow hallways, breakfast room, other on-site restaurants, swimming pool, business center, and gym. An average, mid-sized hotel could have 100 to 200 guest rooms, and if we assume there are 2-3 guests per room, there could be about 500 people on-site at all times, so you are likely to encounter someone in these areas. However, hotels have been good at enforcing masking policies and remind their guests to be mindful in these high traffic areas, so the risk can be mitigated.
Airbnb: The biggest risks with shared spaces in an Airbnb rental would be in a shared room rental, where guests would access communal rooms like the bathroom or kitchen with the hosts. There would also be elevated risks if the Airbnb is located in an apartment complex with elevators and hallways. However, detached houses would not face the same risks as there would be very little interaction would other people on a private property.
Housekeeping
Hotel: Some hotels are now shifting from an opt-out service model to an opt-in method, where it is assumed that guests will not need any housekeeping services unless they actively request it. They estimate the amount or toiletries and towels you will need based on your length of stay to limit the number of times the housekeeping staff need to enter your room. But, this model has not caught on everywhere, so you could be exposed if there are more frequent housekeeping visits to your room unless you opt out.
Airbnb: There is generally no housekeeping staff or maintenance checks performed by the host unless the guest actively asks for something, so there is a limited risk of interaction.
Summary
Overall, Airbnbs typically offer fewer touchpoints with humans compared to hotels throughout a stay. Of course, it is still possible to have a safe stay in either accommodation and both types have taken enormous action to ensure that you are as safe as possible.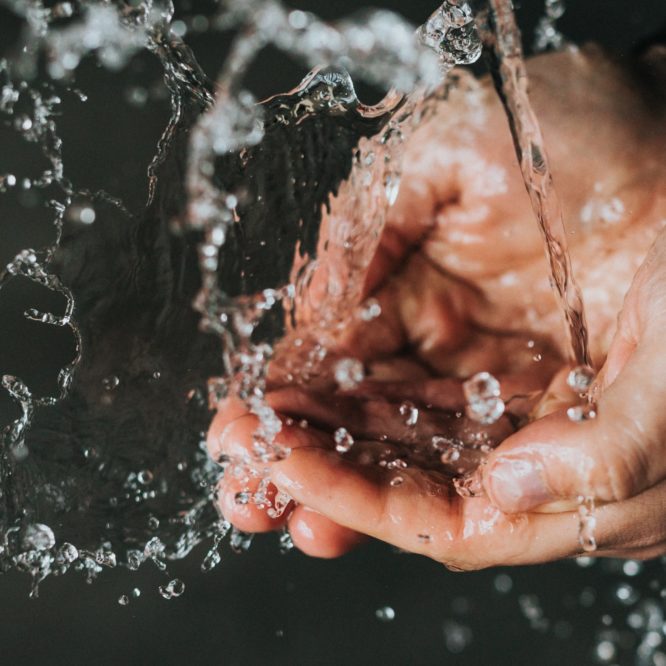 The other major factor in preventing the spread of COVID-19 is through a commitment to deep cleaning. Enhanced cleaning training and standards ensure that there is more awareness on how and where coronavirus spreads so that all at-risk surfaces are thoroughly sanitized. This is true not only for hotels and Airbnbs, but also places like supermarkets, restaurants, retail stores, and public transit. In fact, most large chains and associations have now developed official cleaning protocols that exhaustively details the process that they go through to deliver a clean environment. They have even consulted or partnered with major healthcare and cleaning & hygiene organizations to develop their standards as whole industries have come together to give us the best chance to fight the virus.
Hotel: Many large chains have taken advice from health industry leaders and have strengthened their cleaning guidelines. For example, the IHG Group partnered with the Cleveland Clinic, Ecolab, and Diversey to develop their "Clean Promise" program.  Meanwhile, the Four Seasons consulted with Johns Hopkins Medicine to help create their "Lead With Care" initiative.
Airbnb: The Airbnb corporate team has also developed an in-depth, 5 step cleaning process with the help from Ecolab, a former U.S. Surgeon General, and the guidelines from the U.S. Center for Disease Control and Prevention (CDC). They also allow hosts to add in a "booking buffer" that allows for extra days between guests to reduce the risk of exposure as well as  to provide more time to clean their home.
Summary
Overall, both hotels and Airbnb have significantly increased their focus on their cleaning programs and you should feel comfortable with either choice in regards to cleanliness.  
Other Exposure Points to Manage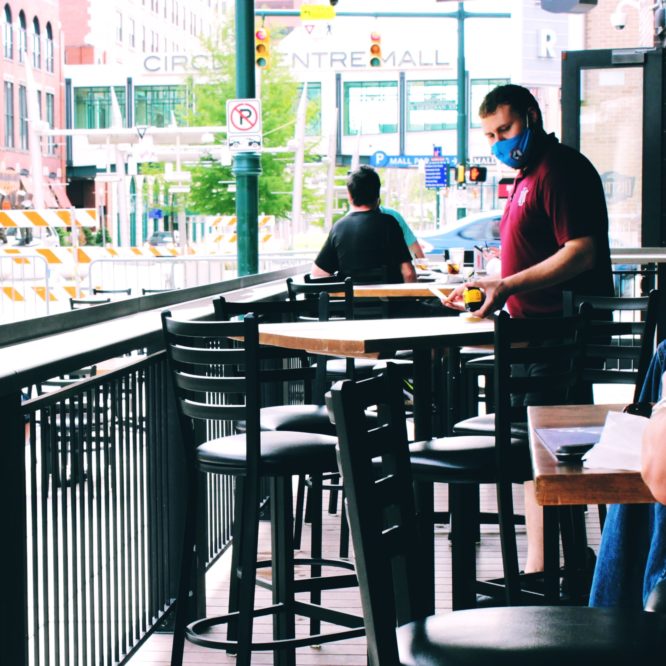 Another threat that travelers should think about is where else they may be exposed to person-to-person contact and how they want to adopt a different approach during this pandemic. For example, you may want to limit your exposure to all public spaces when traveling while the coronavirus is still active for now, so that means reducing the number of restaurants and bars that you visit. But, you still need to eat, so your accommodation should be flexible in giving you the chance to buy or prepare food.
Hotel: If you want to avoid going to restaurants, you could always order room service for your meals. Many large hotels also have restaurants on-site and nearby, so you could get take-away from there, too. But, most hotel rooms do not come with a full kitchen to actually prepare any full meals. Instead, you would only get a microwave and refrigerator.
Airbnb: Meanwhile, most Airbnb houses or apartments are people's actual homes, so they come equipped with a full kitchen with a microwave, stove, refrigerator, cookware, and utensils that are needed to prepare and eat your meals.
Summary
Both hotels and Airbnbs offer different strengths when it comes to limiting exposure if you don't want to go out. Hotels usually have an in-house restaurant that can deliver room service directly, while many Airbnbs have a full kitchen that can be used.  
Tips on How to Travel in the Future
Regardless of which option you choose, you can take active measures to ensure that your exposure to any viruses are limited by planning ahead and bringing some of your own cleaning materials.
Plan your travels during the off-peak season to limit the number of people wherever you are
Choose an accommodation that has self check-in and check-out
Bring your own sanitizing wipes and focus on high traffic touchpoints – doorknobs, light switches, remote controls, desk tops, bathroom faucets
Decline housekeeping services unless needed
Limit use of shared spaces like elevators, swimming pools, and business centers
Think about how you want to manage your meals during your trip
Conclusion
The future of travel will certainly be different than what the world is used to, but with the right precautions and proactive planning, we think that you can still enjoy your trips while limiting your risk of exposure to COVID-19. The major risks related to your accommodation while traveling are person-to-person contact, level of cleanliness standards, and secondary points of exposure.
We are slowly getting back to our regular lives and in the meantime, continue to inform yourself about the best choices to make and explore what life has to offer.
Articles You Might Also Like