Introduction – How to Find the Best Airbnb
Airbnbs can be found in virtually every part of the world and are great at delivering an authentic experience right in the heart of a neighborhood that hotels often cannot match. We developed this guide to give you all the insights on how to find the best Airbnbs so that you can enjoy the perfect trip every time you book.
There are many benefits that come with an Airbnb. You usually get more space and more amenities like a full kitchen than a traditional hotel room, which is great for families as well as travelers who want to prepare their own meals. Similarly, you can choose from a countless number of options and filters to match your needs, such as looking for rentals that offer parking, washer and dryer, or a swimming pool. Airbnbs are also great for large families or groups who want to travel and stay together with a shared living area, which is usually not possible in separate hotel rooms.
With all of this in mind, we created this website to put together the best Airbnbs nearest to many popular travel destinations across the U.S. and Europe. Our lists are thoroughly researched, and we hand-pick only the best of the best using our in-depth evaluation process. In this article, we would like to share with you our top tips if you want to search for an Airbnb that we have not covered or if you want to compare some listings as well.
1. Plan in Advance – Start Now!
If you are reading this article, you are probably someone who takes pride in planning ahead and optimizing your time and experiences. Well, this is a good area to make use our your diligence as planning in advance will surely help you to find and secure the best Airbnbs. There is a good reason for it – Airbnbs are often times just one house or apartment, so they only have 1 stay to offer. It's a completely different model compare to large hotel chains, which could offer 500 rooms at each location and also have some last minute availability due to frequent cancellations.
The most popular Airbnb properties are usually the ones in the best location and with the most amenities, so they are booked well in advance. And, when they're gone, they're gone – there are no other listings exactly like it.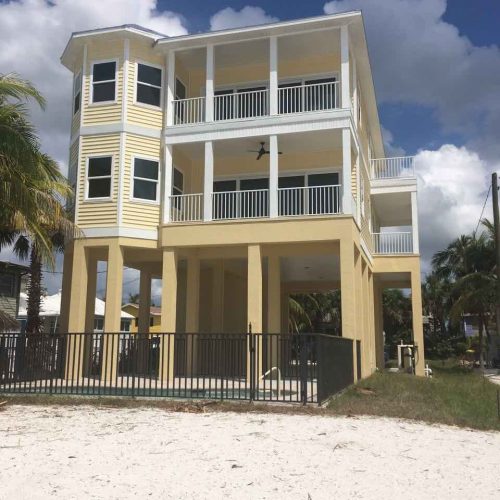 So, it pays to start your research as early as possible to make sure you get to choose from the largest pool of rentals available and secure the best one for your needs.
2. Research the Neighborhoods of your Destination
Location, location, location. That should be your top criteria when determining where to look for an Airbnb. But, how do you choose the best location for your stay? Well, that first depends on your own needs. What is the reason you are traveling? Are you going somewhere for a specific event? Are you looking for a central base for sightseeing across the city? Do you want to be close to a particular location, like a stadium, landmark, or airport?
Once you have identified that, then it will be easier to choose a neighborhood to stay in. There are numerous travel guides online that give you a detailed look into the trendiest areas in each city. Here are our favorite guides from the big travel companies:
Expedia Video Reviews on YouTube – these short videos cover a whole city in about 5 minutes and are all narrated by locals who really know about the different districts of their city
Lonely Planet – their comprehensive guides cover everything about a destination, from things to do, to sample itineraries, and even topics like local etiquette
The New York Times 36 Hours Travel Series – this unique concept imagines that you are planning a weekend trip somewhere and have about a day and a half to explore a new place, so they provide you with an excellent overview of the major highlights, includes places to eat and neighborhoods in stay in
Likewise, there are tons of blogs written by individuals or couples who have actually been to the locations recently and can give you some fresh first-hand feedback on where you want to go. Of course, you can also refer to our lists of the best Airbnbs near your favorite locations, where we have taken all of these resources into account to build our guides.
3. Decide on the Type of Property You Want
The next step in finding the perfect Airbnb is to make sure that you fine-tune your search to match your needs. First, start with choosing the type of place you want. Do you want the whole to yourself or do you only need 1 room in a shared house?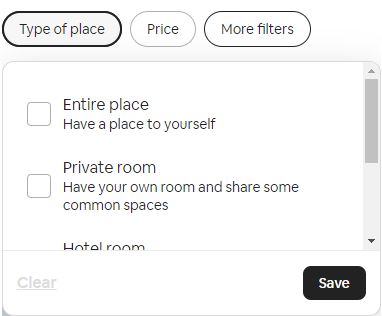 Likewise, go to "More filters" and go down to the area where you can select the number of beds, bedrooms, and bathrooms you would like: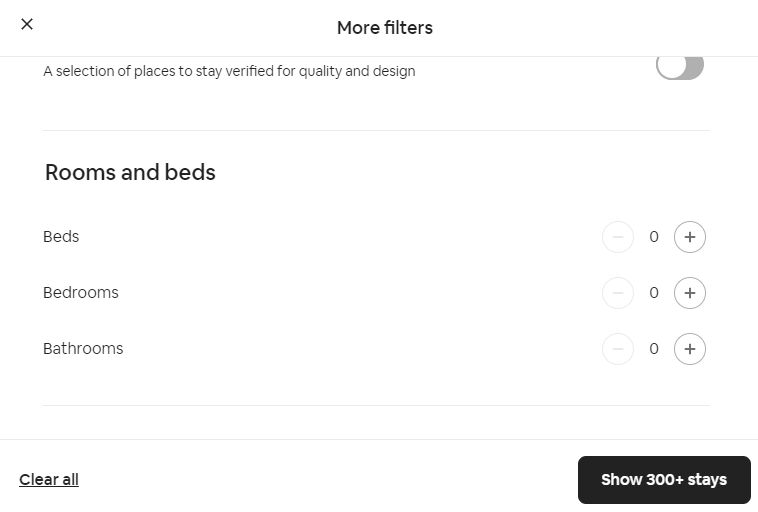 You could even choose the type of property you want. Airbnb has gotten really creative and now offers an extensive list of cool rentals. Just go to "More filters" and go down to the "Property type" and "Unique stays" area: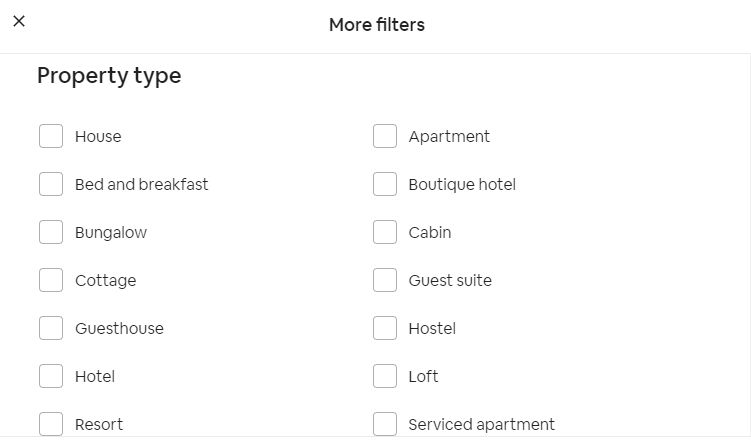 You can stick to a traditional option like a house or apartment or you can really make you trip unforgettable by choosing something special like a barn, cabin, a tiny house, or even a castle!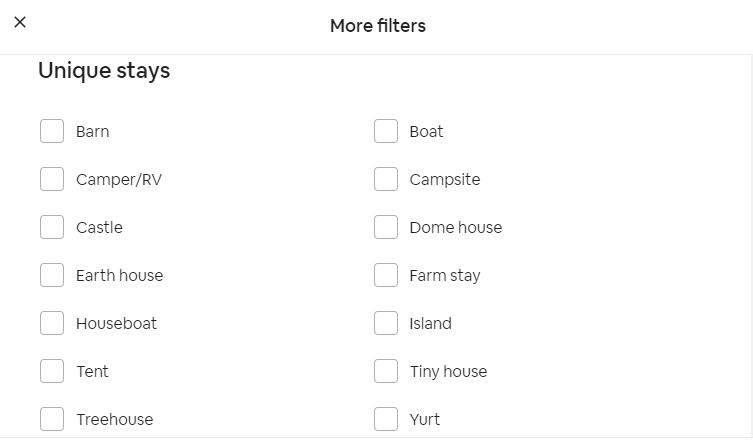 4. Make Use of Extensive Options and Filters for Amenities
Now that you know what type of property you want, let's make sure you get everything you want inside the rental. Airbnb offers a long list of amenities that you can include for your stay, from the basics like wifi and shampoo, to more functional items like a kitchen or a washer and dryer. There are even some lavish options like a piano and also a choice to specify being on a beachfront or waterfront.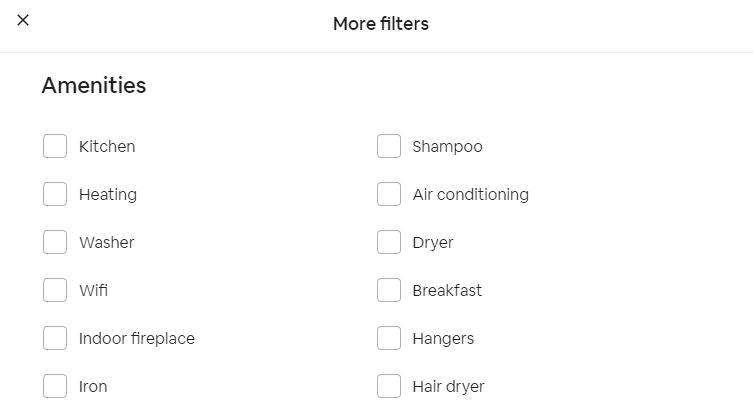 There is also a "Facilities" filter that allows you to choose things like a swimming pool or hot tub:

With all of these filters at your disposal, you are bound to find exactly what you are looking for in an Airbnb rental.
5. Look for Superhosts
Airbnb has been around now for over 10 years and they have had many property owners who have been with them since day one and who have consistently provided top-rated hospitality over the years. To recognize and reward them, Airbnb started their Superhost program, which selects only the best of the best hosts based on a number of strict ratings, which are:
8 of out 5.0 overall rating
10+ stays in last 100 days
<1% cancellation rate
90%+ response rate
Even after a host earns Superhost status, Airbnb continues to check that they have maintained their ratings every 3 months. So, what does this mean for your search? There is a certain level of trust and commitment that you can expect from a Superhost, so we recommend starting with this filter to find the highest quality listings that have been verified by previous guests. Of course, there are also many great hosts who have not reached Superhost status, but that may be because they don't host often enough.
You can find the Superhost filter under "More filters":

6. Look for Enhanced Cleanliness
If you want to assure that your next stay is thoroughly cleaned and that the hosts maintain a high level of hygiene, you can look for the new "Enhanced Clean" badge on listings. Airbnb consulted with Centers for Disease Control and Prevention in the United States and Europe to develop their comprehensive cleaning and hygiene guide, and hosts who commit to these standards are awarded with this special call-out on their listing:

7. Read Guest Reviews to Find Out the Scoop
Now that you are starting to narrow down your search, you want to make sure that you really get what is advertised. A great way to do this is to read through the reviews that previous guests have left for the property. Airbnb is built on the idea of a community, so they encourage guests to leave a review whether it is positive or negative. You could even see it as a questions and answers section that may address some of your concerns.
Often, the guests speak about the quality and location of the rental – cleanliness, amount of space, proximity to public transport or supermarkets, etc., so you can pick up some clues about the accommodation. They also talk about the host and the ease of the check-in and overall communication.
Also, remember that you can use reviews to help paint an overall picture of the property. If one guest had a complaint but none of the other 100 reviews mentioned the issue, then maybe it was only that one guest who was overly picky. But, if 20 people mention the same problem, it may be a sign of a bigger trend.
8. Use Pictures to Help, But Don't Make It Your Only Criteria
The photos posted by the hosts are the easiest way for us to judge the quality and design of an Airbnb. But, they don't always tell the story, both in a good way and in a bad way. There are many angles and filters that hosts can use to make their listing look nicer or bigger than it is. Be on the lookout for pictures that are shot with a fish-eye or panoramic style, along with photos from strange, unnatural angles. They may be a sign that everything is not as it seems.
On the other hand, not every host has access to a professional camera or is even great at taking photos, so sometimes the properties that post a few dark or blurry shots end up actually nicer than the photos. So, don't be discouraged if the photos don't look like they were taken for Architectural Digest, you still might be in for a treat.
A great way to learn more is to read through the reviews to see what others have experienced and if the photos match the reality.
9. If It's Too Good to be True, It Probably Is
So, you've looked through the pictures and found a great, luxurious apartment for half of what other hosts are listing their prices at. Well, if it seems too good to be true, it might be because it is. It doesn't happen often and the Airbnb community is pretty good at sniffing out frauds, but sometimes a new scam listing pops up, so it is best to be informed for your search. Be wary of places that look like they don't fit the style of the area, like an ultra-modern apartment in the rural farmland or a cabin lodge near a downtown area.
10. Don't Immediately Ignore New Listings with No Reviews
Although it is a good idea to exercise some caution when reviewing Airbnb listings, especially those with deals that are abnormal, there are some hidden gems out there that are legitimate and just need some extra time to verify. When a host is just starting out, they probably don't have any reviews (and cannot obtain Superhost status), so it is hard for them to compete against established rentals with 100+ reviews.
But, everyone has to start somewhere, so they can compete on price and can offer discounts to their first few travelers, thus allowing them to start establishing their reputation. If you are interested in a cheap option with limited reviews and want more comfort, you could reach out to the host and start to communicate with them. If they respond quickly and can provide genuine, relevant answers to your questions, then it is possible that they are in the situation of building their status and it will be safe to book their place. But, again, also proceed with caution and take the time to write these hosts to get a better feel of their situation.
11. Create Lists to Save and Compare Your Favorite Listings
Now that you have all your filters set and you know what to look for and what not to look for in an Airbnb, its time to start going through your options. Did you know that you can make lists on the Airbnb website to track all your top choices?
You can create a list by clicking on the heart on the top right of any listing: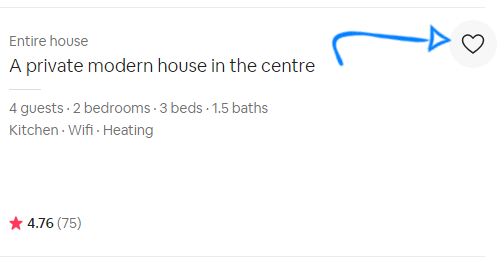 Then, a pop-up will show up and you can click on "Create a list" to start a new list or save it to the default "Vacation Places" list that shows up: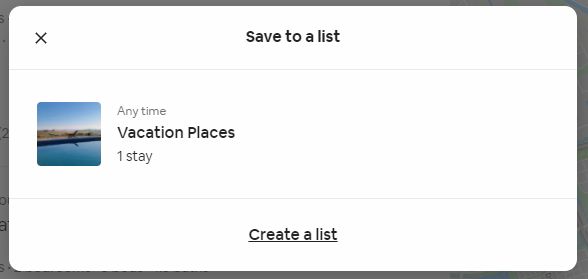 12. Consider Longer Stays to Optimize Your Value
If your travel dates are flexible, a great way to enhance your experience without spending more is to actually book more nights and stay longer. Unlike most hotels, many Airbnb hosts offer discounts for longer stays by week or even by month. So, if you were planning to stay 5 or 6 nights, it might be worthwhile to see if there is a discount if you stretch it to 7 nights. In fact, it may turn out cheaper than your original itinerary. We have had experiences where we were only going to spend 5 nights at a location, but we saw that some hosts were offering weekly discounts of 40 to 50% off, so it was actually turned out less costly to stay longer. Of course, it may depend on the season when you travel, but just keep it in mind the next time your search.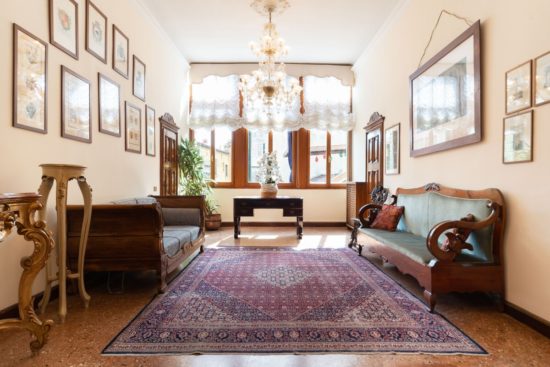 13. Read the Cancellation Policy to Ensure Flexibility
It is always a good idea to read what the host's cancellation policy is before you lock in your choice in case you need to change your plans later. You can find out their terms once you enter your travel dates. From there, you can see if you can cancel and the different levels of refunds based on your cancellation timing. If the host has a flexible policy and the property is popular, it may be worthwhile for you to book it now knowing that you can still change your plans, but at least that you have something reserved.
14. Don't Communicate Outside of the Airbnb Platform
Our final tip is to always make your communications and payment process through the official Airbnb website and app. If you don't have any records of your discussions or payments, then Airbnb may not be able to support or protect you if anything goes wrong. It also raises the chance that there is some fraud if your host insists that you to do everything offline.
Conclusion
You are now well on your way to finding and booking the best Airbnb options for your next journey. The biggest tips are to start now, define your own needs and make sure you filter for those needs, and use the reviews and pictures to figure out the best deals. We are confident that this guide can help you unlock the cream of the crop and give you one less thing to worry about.