Airbnb has been traditionally known as the platform for providing short-term stays for vacationers around the globe. But now, they have made a big push to offer longer-term stays and have also encouraged their hosts to open up their homes for monthly rentals.
While many owners have been offering long stays for a while, Airbnb has now put the spotlight on this option and has even launched a dedicated search page for them called Airbnb Sublets, which is tailored to filter for stays from 2 weeks up to 6 months. Airbnb estimate that 80% of hosts currently accept long-term stays, and to further entice you to consider them, roughly 50% of those hosts offer discounts for stays of a month or longer.
In this in-depth guide, we will cover everything you need to know about Airbnb for long-term rentals, including who the ideal target audience would be, the key advantages, and some step-by-step instructions on how to secure the perfect one for you.
Who Should Use Airbnb for Long-Term Rentals?
Let's start with identifying who could really benefit from using Airbnb for long-term stays. Normal society dictates that we should find a job and live near the office. That means that you should then buy a home or sign up for yearly leases. But, that model is rapidly becoming outdated. We now have work that is much more flexible and can be done remotely. The digital age has also helped support different lifestyles that don't rely on a permanent location. Here is a list of the best candidates who can get the maximum value from an Airbnb sublet:
Digital Nomads & Work from Home Professionals
Location is irrelevant in today's age, especially with many more companies shifting to remote work in light of COVID-19. Of course, digital freelancers have been living this type of lifestyle for a while. An Airbnb sublet is the perfect choice for those who are not tied to a specific location and want to try a new city, but without locking into a long-term lease. It also provides the chance to save some money by moving to a city with a lower cost of living than where your office is located.
In fact, now is a great time to engage in "geographic arbitrage," a process where you change your physical location to a lower cost area (while even still earning the same salary for your remote job if you are still working). 
Interns
Summer internships usually last 2 to 3 months. Hotels are out of the question due to their costs, while there are not many leasing companies that offer anything less than 6 months. Craigslist is an option, but there are no reviews to rely on. Therefore, using Airbnb to find a sublet is probably the easiest way to find an affordable, trustworthy room or apartment that has also been reviewed.
Business Travelers
Longer stay Airbnbs are also a great choice for business professionals who are on a short-term assignment, such as consultants. Living the good life on the company dime may be fun for the first few trips, but eating out every night can get old (and unhealthy) after a while. Having access to a real kitchen would allow you to prepare your own meals and help you strike a better life balance when you're on the road.
Medical School Students
Medical students planning for their away rotation during their fourth year of studies can certainly benefit from a monthly Airbnb rental for their temporary housing needs. Since most away rotations last for 1 month, an Airbnb sublet makes more sense than a costly hotel or a questionable room share off of Craigslist. There is also more trust with the Airbnb option since there are guest reviews of the hosts.
You can check the map and find an Airbnb that is close to the hospital, too. That can really save you a ton of time on your commute and even save you money in transportation costs. You might even be able to go car-free if you get close enough, which would save you not only on gas costs, but also parking, insurance, and maintenance as well.
Travel Nurses
Another profession in the medical world that can make use of long-term Airbnbs are travel nurses. The typical work assignment for travel nurses are from 8 to 13 weeks, which would align nicely with a 2 or 3 month rental from Airbnb. Just like with medical students, you can use the map to find the stays nearest to your hospital or facility to dramatically cut down on your commuting time.
Grad Students
Grad students looking to stay near campus for a semester or even a full year could turn to Airbnb, as well. There is actually no official limit to the length of stay for Airbnbs. In fact, the longest booking made in 2020 was for 700 days (almost 2 years!). Therefore, it is the perfect option for grad students who want a reliable place to stay. There are also many hosts who offer multiple rooms near a university that only accept grad students or professional students to ensure that they create the right atmosphere of maturity in their house.
Transition in Life
Sometimes, life throws you a curveball. But, when one door closes, another opens, and Airbnb is a great, flexible choice to help manage your life through a transition. Whether you need to find a new place due to a breakup or due to a new opportunity for work, a sublet through Airbnb gives you the chance to find something quick, but without the need to commit to anything long-term. It also allows you to try out different neighborhoods within a city to give you a taste of what it's really like before deciding on settling in one for a longer period.
Slow Travelers
The concept of slow travel has gained tremendous popularity in recent years, possibly boosted by the growing digital nomad lifestyle and financial independence/retire early movement. Of course, anybody with enough time can engage in this type of leisurely-paced travel. Airbnb's longer term rentals can provide the best way to get immersed in a community in a cost efficient manner. It may even come out cheaper to stay for month or longer since some hosts offer discounts for monthly stays.
Benefits of Long-Term Airbnb Rentals
There are numerous advantages that come with using Airbnb for longer stays. They have built up their trusted platform for over 10 years and offer many benefits:
Access to Honest Reviews
The whole Airbnb system is based on the idea of a community that is open and transparent with each other. While it is true that anybody can sign up to stay in or host an Airbnb, users can leave reviews of each other. These reviews are always made public, so there is a sense of checks and balances to ensure everyone is accountable for their part of the stay, whether it is of hosts being accurate with their photos and descriptions of their rentals or guests being careful and tidy in another person's property.
Meanwhile, there are hotel reviews, but their hospitality and cleanliness are usually based on who is staffed there at the moment, and that usually changes often, so you are not guaranteed a similar experience that other reviewers may mention. Instead, an Airbnb is usually owned and hosted by the same person and the reviews are of the person and the property, so you know almost exactly what to expect.
There is also Craigslist, where there isn't even the chance to see any reviews. When you consider all of these elements, you can understand why Airbnb and its review system makes it ideal for finding trustworthy, long-term stays.
Flexible Choices
Airbnb offers a wide range of filters to help you choose your ideal long-term accommodation. First, you have the option to find offers for an entire property or a shared room depending on your needs. You can also select filters for amenities that range from the basics like air conditioning or an iron to more luxurious possibilities like a swimming pool or fitness center.
Fully Furnished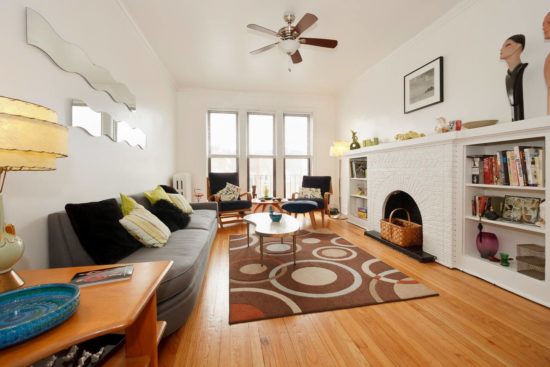 Another great part about sublets from Airbnb is that the properties usually come completed furnished and offer amenities that you wouldn't find in a hotel, such as a fully stocked kitchen, a backyard, or a porch. That could help you save money on buying furniture or little things like pillows or forks & knives.
No Contracts or Utility Bills
When you agree to a longer-term stay through Airbnb, you don't have to go through the hassle of signing a lease agreement contract. This can save you time and overall aggravation, especially if you don't wish to submit a credit or background check. There are also no annoying add-on costs like application fees or administrative charges.
Likewise, you are not expected to pay for any utilities during your Airbnb stay, so there are no worries about signing up for or paying for water, electricity, internet, or trash. It would only be the responsibility of the owner, so you never have to keep track of those monthly payments or contracts.
Security & Ease of Payments
Airbnb offers a wide range of payment options, which regular individuals or property management companies may not be able to match. Payments can be made completely online and by credit card or debit card, which gives you an elevated level of security since it will be tracked on the Airbnb site and by your credit card company in case there is a dispute at any point. The ability to pay by credit card also allows you to earn cash back or points that you would miss if you paid by check.
The security that Airbnb offers also extends to the support they provide for all guests if your experience is not as described. There is a 24/7 hotline that can help with re-booking assistance and refunds if things are not as expected.
Price Discounts for Long-Term Stays
As mentioned earlier, half of all Airbnbs that offer long-term stays provide a weekly or monthly discount off their normal daily rate. We have seen monthly discounts as high as 60% off the original price, so you have a very good chance of saving some money the longer you stay. The fact that you are dealing with a person and not a corporation also gives you the opportunity to negotiate the rates based on the length of your stay, which we will get into later in this article.
Free to Join Airbnb
The best part about all of these benefits is that they are available for free through the Airbnb platform. You don't need to pay for any registration fees or subscription services to sign up and choose your ideal rental.
How to Secure Your Long-Term Airbnb
Now that you are aware of the opportunities and benefits of long-term stays or sublets through Airbnb, we will get into the best practices of finding and securing your dream stay.
How to Find The Best Airbnb
You can follow our guide that gives you top tips for finding the best Airbnb. These tips apply to both short and long-term searchers and offers you a proven process that will uncover the perfect match for you.
How to Message Your Potential Host
For long-term stays, it is always a good idea to message the host first and outline your intentions. You don't have to reveal everything about your personal situation, but we have found that is it helpful to highlight some key facts to build a sense of trust with someone that you may be interacting with a lot in the coming months. Here is an opening message that we usually use:
"Hi [Host],
My name is [your name] and my partner and I will be relocating to [location] for [number of months] starting in [month]. We found your [house or apartment] listing on Airbnb and we are very interested in booking it for our stay.
We are coming to [location] for [work, travel, personal reasons, etc.] and we think that your home is in the ideal location for us. We are [your profession(s)] who are [small facts like non-smokers, runners, world travelers, etc.] and have been in the Airbnb community for [number of years] with many positive reviews as guests.
Since we would like to stay for [number of months], could you please let us know what is the best price that you could offer?
Please let me know if you have any questions about us. We are very excited to come to [location] and we hope we will be able to book your home!
We look forward to hearing from you.  Thanks.
Warm Regards,
[Your name]
This personalized message has helped us screen out some unresponsive hosts and also secured us some nice deals that we would not have received if we had not asked.
How to Negotiate for Your Stay
Remember that everything in life is negotiable. Airbnb monthly rentals and sublets are no different. If you look at it from a host's point of view, they have a property that they would like to rent out every day of the year if possible at the best rates. Usually, they can charge more on shorter stays. But, they may experience some vacancies – it can be due to seasonal changes or just based on unexpected cancellations.
Meanwhile, you are offering them a guaranteed income for a period of time where they don't have to worry about vacancies, screening new guests, or cleaning in between guests. So, it may be in their best interest to offer you a lower rate but that secures them revenue for that whole period without the headache of managing multiple guests.
Here are some creative strategies that you can use to ask for a price reduction:
Explain your current budget and ask if they can be flexible with the price
Offer to pay an extra month upfront
Offer support for home maintenance – cleaning, gardening, painting, etc.
Offer to help prepare meals
Above all, always be respectful and polite when asking for a discount. Don't offer a lowball proposal that is way out of line – we think 10-15% off the list price is a reasonable limit for long-stays. Also, know when it is best to use this approach. A property that has a calendar full of future bookings may not want to or need to engage in any negotiations. Please keep in mind cultural differences, as well. It is not polite to negotiate rates in some culture, so you would become an immediate "no" if you tried.
How to Pay for a Long-term Airbnb
For reservations longer than 28 days, Airbnb will automatically set up a monthly payment system. Right after you book your stay, you will be charged for the first month upfront. Then, they will collect the payment in monthly installments afterwards.
For the moment, Airbnb accepts all major credit and debit cards in virtually every country they operate in and, for select countries, they also accept Apple Pay, Google Pay and Paypal. Also, note that you can only pay for a long-term reservation on a desktop computer.
Cancellation Policy
Airbnb's cancellation policy for long-term stays of 28 days or more is generally a 30-day notice of termination.
Summary
If you are looking for a long-term stay and would like the feeling of a home, but also don't want to sign a lease or commit to any other types of contracts, then Airbnb is a great option to find a fully furnished, stress-free accommodation. They are more flexible than hotels and more trustworthy than Craigslist. The fact that you can choose from a wide range of filters will help ensure that you will find a property that suits your needs.
Frequently Asked Questions
Can you rent Airbnb for 3 months?
Yes, you can certainly stay in an Airbnb for 3 months. In fact, there is no limit imposed by Airbnb – you would just need to find a host who offers that amount of time. But, these longer-terms stays are becoming more popular (and being promoted by Airbnb), so you should be able to find some options for this length.
Does Airbnb run credit checks?
No, Airbnb does not run any credit checks on their guests. The reason that they don't need to is that you are already paying the first month upfront, so that is already the proof if your credit worthiness.